Can Working From Home Work For You?
Two parents on how they balance work and family by working from home.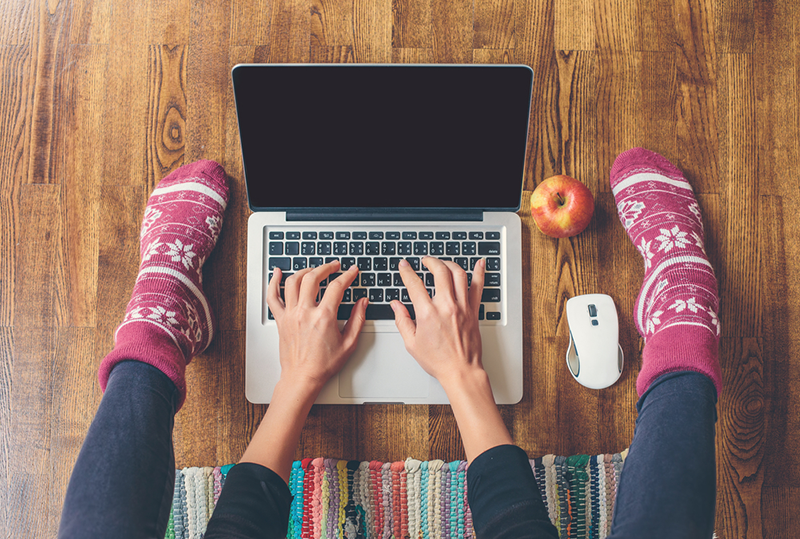 Just three weeks before her maternity leave was over, Caroline Arey knew she could never go back to her full-time office job. Financially, becoming a stay-at-home mom wasn't an option, but after crunching the numbers, Arey, a marketing professional, and her husband, a chef, determined that securing some freelance work would help supplement her lost income.
Arey took the risk and left her corporate job in March 2015. She then started her own firm, offering social media, marketing and copywriting services for five regular clients — all from the comfort of her own home and with her daughter, now 19 months old, by her side.
"I knew, based on our family structure, that I couldn't be a full-time stay-at-home mom without work, but I feel like the schedule I have now allows me to be as much of a stay-at-home mom as I can be," says Arey, who lives in Matthews, North Carolina. "I put my daughter to bed every night and wake her up every morning. I never miss a milestone."
With more parents craving a better work-life balance and more companies offering flexible work options, some parents are finding ways to work from home instead of commuting to an office. While this allows parents the best of both worlds — the opportunity to spend more time with their kids while maintaining their professional careers — there are challenges that come with this type of arrangement.
"I like that I contribute financially to my family, that I'm keeping my skill set fresh and that I have an identity with my work," Arey says. "And I love that I get to do storytimes and playdates and be an insider in my child's life. It's the best of both worlds."
---
Setting a Schedule
As a business owner, Arey works seven days a week. She has arranged for a nanny come to her home from 9 a.m. to 4 p.m. on Tuesdays and Wednesdays, and schedules all of her in-person client meetings during those timeframes. The rest of the week, Arey juggles work during nap times, while her husband is home and after her daughter has gone to bed. Arey's mother lives close by, so she is also available to babysit when Arey needs an extra hand.
"The skeleton of my week is organized for productivity, but things come up all the time. Really, no day is the same," Arey says. "The bulk of my work happens after bedtime, and wonderful child care is a must to have time to focus."
Unlike Arey, Brian Barbour from Apex, North Carolina, is a work-from-home parent with a more regular schedule. Barbour, a sales engineer for an international technology company, says his employer is a strong proponent of what it calls "a mobile workforce," and he has worked from home for almost four years. Because he has older children — a 19-year-old and a 9-year-old — Barbour's typical 8 a.m. to 5 p.m. workday is rarely interrupted by child care needs, but his flexible schedule does come in handy from time to time.
"There is a lot more flexibility in my schedule so I can help drive kids to activities," he says. "It's also easier for my wife to schedule appointments or run errands, knowing that I am home with our daughter."
Barbour says the greatest advantage to working from home is not having to factor a commute into his daily schedule, which alleviates the stress of fighting traffic and rushing to get to places on time. But, he says, working from home always makes it easy to spend all day at his desk, adding that he usually doesn't even break for lunch. He has to be intentional about taking a few breaks throughout the day, and takes his laptop and phone outside on nice days.
"It's easy to forget to leave your desk without a commute to end your day, or the distraction of fellow employees chatting or walking by," he says. "Remember to take a walk or get some form of exercise in. I know a guy [who works from home] who walks his neighborhood for 15 minutes at the beginning and end of his workday, pretending that he has a walking commute."
---
Being Productive
While it can take more discipline to be productive while working from home, Arey and Barbour agree that they are more efficient with their time now than they were when they worked in an office setting. Arey says that between employee interaction, emailing, lunch breaks and internet browsing, she often spent only two to three hours a day doing actual work. Now, because her time is so precious, she is more determined to use it wisely.
"The nice thing about working from home in snippets of time is because when I'm working I'm actually working," she says. "I'm not just spinning my wheels during work time."
Barbour says his household sometimes gets "slightly unruly," especially when all family members — including their two Cairn Terriers — are home. He adds that it took some time for his family to adjust to the idea that, even though he was physically home, he was unavailable for activities, events or chores during regular workday hours. Barbour enforces ground rules so his family knows not to disturb him and to keep the noise at a minimum, especially if his office door is closed or if he's on the phone. During particularly busy times, he chooses to wait until his family has gone to bed to focus on important tasks.
"In retrospect, I think there was much more distraction at the workplace than at home," Barbour says. "I was assigned to sit in a cubicle. There was constant foot traffic and interruption, and I was never very productive sitting at my desk."
---
Overcoming Obstacles
One of the more challenging aspects to working from home is how isolating it can be. Barbour says he sometimes misses the daily camaraderie with coworkers, but calls a friend or gets together with a coworker for coffee or lunch when he needs some interaction.
Another challenge is creating a separation between work life and home life. The house can be a distraction when there is housework or laundry to be done, which is why having a dedicated work space is important.
"As happy as I am to not be in a traditional work environment, what I do now is much harder than my last job," Arey says. "There is no separation at all from work and home, and there are many days I feel that I'm not doing my best in either place because I'm not fully focused on either place."
"But I fully recommend working from home to anyone who can do it," she adds. "I wouldn't change it for anything in the world, no matter how messy things can get."
---
Emily Schappacher is a wife, mother and writer based in Huntersville, North Carolina.
---