Build Your Own Gingerbread House
A pastry chef shares her recipes and instructions to make your own gingerbread house.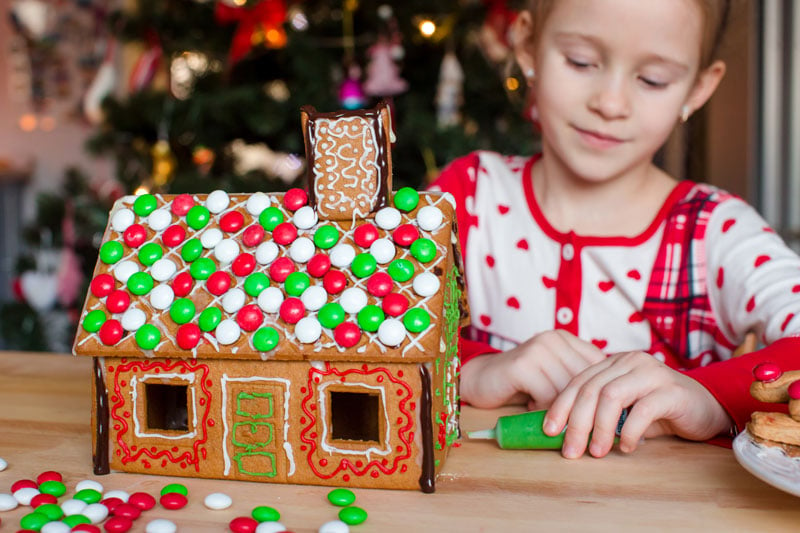 If you're inspired to build your own gingerbread house, use the following recipes and construction tips from Tina Haldeman, pastry chef at The Omni Grove Park Inn in Asheville (location of the National Gingerbread House Competition), to make your supplies and build away. Note: These recipes are based on building a large gingerbread house, or enough to make a village with friends (or maybe a second attempt if one house falls down!).
Community School of the Arts is also offering Gingerbread House workshops Dec. 3, 11 and 17. Cost is $70 and includes two gingerbread houses, icing, candy decorations and inspiration. Register here.
---
Gingerbread
Ingredients
1 pound butter
12 ounces brown sugar
1 pound molasses
3 pounds, 8 ounces all-purpose flour
1 tablespoon + 1 teaspoon cinnamon
1 tablespoon + 1 teaspoon ground ginger
1 teaspoon ground cloves
2 teaspoons salt
11 ounces cold water
Cream margarine, brown sugar, spices and salt until light and fluffy. Add and blend molasses. Add flour and mix to combine. Add cold water and blend. Refrigerate to set. Bake at 350 degrees until done—approximately 15-20 minutes.
---
Royal Icing
Ingredients
1 pound powdered sugar
2 egg whites
1 teaspoon cream of tartar
Add egg whites to sugar and cream of tartar. Beat on high for 3-5 minutes until snow-white and fluffy. Keep covered with a damp towel to retain moisture and avoid hardening. Royal icing is the best choice for assembling and decorating gingerbread houses. Most other icings contain shortening or butter that eventually soak into the gingerbread and could cause your house to soften and collapse.
---
Marzipan
Ingredients
2 pounds almond paste
1/2 cup light corn syrup
2 pounds sifted powdered sugar
Marzipan is an edible clay-like substance that can be rolled, pressed, and molded into creative shapes for garnishments, people, packages and creatures.
---
Pastillage
Ingredients
8 ounces gelatin
5 pounds confectioner's sugar
8 ounces water
Heat gelatin in water until dissolved. Add confectioner's sugar. Keep covered with a wet towel pastillage, similar to stiff putty, is sometimes referred to as gum paste. Pastillage is rolled fondant without any of the softening ingredients (glycerin, corn starch, or shortening). It dries bone-dry and crusts more quickly than fondant.
---
Gingerbread House Construction Tips
1. Use clean, simple patterns to cut dough. Cutting with patterns makes all the difference.
2. Add intricate and heavier decorations first.
3. Let the house dry overnight between each layer of decoration.
4. Use strong "glue," which is traditionally Royal Icing, melted Sugar or Caramel.
5. Have a sturdy foundation. A gingerbread house is only as good as the surface it is built on. Use a sturdy board that fits the area where you plan to display it. A 1-inch plywood board is best.