9 Tips for Frugal Family Ski Vacations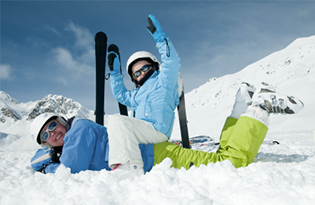 My husband and I are avid snowboarders. We met on the hills and never wanted to stop snowboarding. Then came the kids. Since daycare on the slopes can cost upwards of $95, it was almost impossible to get to the mountains without dipping into our rainy day fund.
Though our kids are old enough now to join us on the slopes, it still makes for a costly adventure. My love for the sport drives me to save as much as I can when we hit the mountain. Hopefully the following tips for saving on lift tickets, equipment and extras will help you enjoy some good powder without freezing your bank account.
LIFT TICKETS
Think Small
If you're kids are still a little wobbly on the mountain, consider a smaller, family-friendly resort like Eldora in Boulder, Colo.; Ski Cooper in Leadville, Colo.; or Snowy Range in Centennial, Wyo. These smaller resorts don't have a fancy lodge or expansive runs, but you can't beat the price of a lift ticket which ranges from $35 to $45. Hold off on going to the more expensive resorts until your kids are older and can ski or ride the entire mountain.
Score Ski Passports
5th and 6th graders can ski or snowboard for free at select destinations. The number of days and date restrictions will vary by resort, but planning your trip accordingly will save you a boatload. Check out 380 Ski Areas Where Kids Ski Free on Mr. Free Stuff for more information.
Buy at a Bulk Store or Grocery Store
If you're planning a weeklong trip or are just an avid skier, look at places like Costco or Sam's Club for discounted, multi-day passes. You can also save a few bucks by purchasing lift tickets from Safeway or King Soopers, though they may not sell tickets to every resort.
Ski Midweek or After Noon
If your kids are just learning or this is your first time bringing the whole family to the mountain, half-day skiing is your best bet. You can save up to $40 when purchasing a half-day ticket, plus you'll get more bang for your buck since your kiddos won't be up for a full day on the mountain. You can also check your local resort's website for off-peak discounts on midweek passes.
EQUIPMENT

Save on Cold-Weather Gear
The best time to buy cold-weather gear is at the end of the season, but that advice doesn't do you much good right now! In addition to scouting stores for deals, browse the web for other great discounts. For example, PromoCodes.us has a deal for 20-percent off your order from Sierra Trading Post.
Don't Buy; Rent
Kids grow out of boots and skis in size as well as ability. For those who to ski consistently during the winter, consider renting for the season which is cheaper than renting for the day. Otherwise, rent from a ski shop a few miles away from the resort; you will likely find better prices, more size options and less lines.
ESSENTIAL EXTRAS
Pack Lunch and Snacks
Resort food can send a family of four way over budget. Pack a lunch and stash it in a locker to avoid paying $12 for a personal pizza. Bring a few snacks to the slopes to fend off your kids' hunger until lunchtime. All mountain lodges offer free water so hydrate this way instead of shelling out cash on bottled water.
Keep Your Smartphone Handy
Your smartphone can come in quite handy on and off the mountain. Free apps like SnoCru show current snow conditions so you know how to dress yourself and your little ones for a day on the slopes. Heading out to the mountains, the CheapGas app directs you to the least expensive gas station on my route. And Foursquare offers discounts and freebies when you "check in" to restaurants.
Look for Package Hotel Deals
Ski season has been slow over the last couple of years due to economy and poor snow conditions. That means hotels in ski destinations are eager for your business and often roll out package deals offering hotel, breakfast and ski passes. Some hotels may also include complimentary daycare for the little tots who don't venture onto the slopes.
Maisie Knowles is a working mother of two with three-year's experience writing on parenting and partner issues. She co-founded Kinoli Inc. with her husband in 2005 and currently spends most of her time at home with her two young girls. For more information, visit MaisieKnowles.com.
Related Links:
> Tubing at Hawksnest
> Sweet Snow at Sugar Mountain
> Skiing, Snowboarding and Tubing Getaways in N.C.
> Appalachian Ski Mountain