8 Tips for Holiday Sanity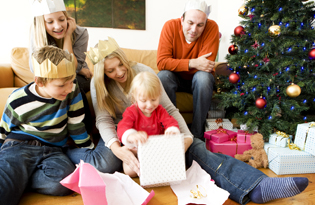 Ah, childhood! Remember when you didn't have to worry about being in three places at once during the holidays? The dilemma of where to go seemed to be so easily worked out by our parents and extended family. Now that we are grown-ups, by the time the new year rolls around, we're totally frazzled from celebrating the holidays several times with many sets of relatives. Adding your kids to the mix can make situations even crazier. Following are some quick fixes that will help you and your family find more holiday cheer this year.
1. Combine family events. Instead of running to your parents' house and then driving to see each of your siblings separately, consider having just one shindig at one location when most everyone can attend. To make life even easier, forego the sit-down dinner and go the potluck route. Some people choose to throw a small party at their house every year on the second Friday in December, for example, and have things for the kids to do, such as building a gingerbread house or painting ornaments.
2. Consider an open house. Choose a location (like your uncle's house), a date and a convenient time frame when family members can come and go as they please without the pressure of being on time for a meal. Serve finger foods and other easy fare to make it easy on the hostess.
3. Attend the faraway celebrations only every other year. It's a fact of life that people marry someone from another state or move out of town due to a job change or other circumstance. This can leave many families feeling pulled in too many directions when the holidays roll around. It can be difficult to decide how to come together, so work out the details in advance.
4. Negotiate annually. All families are different, so it can be practically impossible to please everybody every year. One year, your cousin may need to leave early to spend the rest of the day with her husband's family. Another year it may just work out best to hold the event on a completely different day of the month. Which brings me to No. 5 …
5. Help your extended family realize that Christmas, for example, can be even nicer when spent on a day other than Dec. 25. You could get together with your grandparents a few weeks before or after Christmas Day and enjoy a more relaxed mood. You would be able to take your time opening gifts while enjoying each other's company. It could be a time to treasure and look forward to every year!
6. Do drop in. Elaine St. James, author of "Simplify Your Christmas: 100 Ways to Reduce the Stress and Recapture the Joy of the Holidays," only visits her sister and her family to raise a toast but not to eat. She takes no food for the meal, no gifts, and says to her family, "We're bringing ourselves and our best wishes for the season."
7. Just stay home. Some people make the choice to celebrate Christmas Day at their own home every year. The decision may not be popular, and you might have to defend it every year, but it could be the most relaxing and fun day of your entire year. Just imagine yourself hanging out in comfy sweatpants all day long while you play with your kids and their new toys, games and other gifts.
8. If tensions get high between family members, think of others who may not have any family, or even a home. Consider serving food at a homeless shelter sometime around the holiday or being a bell-ringer for The Salvation Army for a couple of hours. St. James has another great idea: Make a paper bag lunch with a sandwich, cookies, fruit and juice drink and pass it out to the homeless in your area. These are great opportunities to take your kids along and teach them the true meaning of the holidays.
To ensure no feelings are hurt, let your family know they are always welcome to spend holidays at your home (with some notice, of course). With a little understanding and communication, everyone in your family can have a peaceful holiday season.
Kerrie McLoughlin is just a regular mom who writes about parenting five kids at TheKerrieShow.com.
?