7 Tips for Family Farmers' Market Fun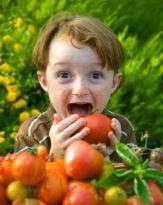 Spring brings gorgeous Charlotte weather and one of the best outdoor activities you can enjoy with your child: the farmers' market. Whether you are in search of the freshest produce or you simply want your menu to be more inspired, your family can find a bounty of locally-grown food.
With so much interest in organic and regional farming, the farmers' market can provide the perfect setting for a day of learning and fun with your child. You will find a large selection of foods such as freshly-baked breads, organically-grown produce and herbs, grass-fed meats, and cheeses. You can teach your child how to discern if fruit and vegetables are ripe and explain the difference between organics and foods found at the grocery store.
Your child can enjoy samples of fruits and vegetables while you explain to them the importance of eating a healthy diet. Julie Mall, a Waxhaw resident, loves taking her children to the Matthews Farmers' Market. She says, "The kids love the free samples. The area is contained, so it is really easy to keep an eye on them."
The farmers' market can be a valuable tool for teaching children to understand how buying food affects their bodies and the world around them. Mall says, "I love knowing that the vendors are local and almost everything is organic. I feel good about supporting regional businesses and it is better for the environment because our food doesn't have to be shipped in. I can find everything I need here in the area."
An animal lover, Mall is also interested in educating her children about humanely treated meat. "It is great for the kids to be able to meet the farmers and learn how their animals are raised. They always come home so excited about what they have learned."
Here are some tips for planning a perfect morning with your child at the farmers' market.
1. Plan ahead for your trip.
Pull out cookbooks and discuss fun recipes and ideas for meals with your child.
2. Check out books from the library to read before you go.
"Farmers' Market," by Paul Brett Johnson, looks through the eyes of a young girl who lives on a farm and her trip with her family to sell their crop at the farmers' market. "Ana Cultiva Manzanas/Apple Farmer Annie," by Monica Wellington, is a bilingual book about the market that will allow you to teach your children the Spanish names of the produce they may see on your outing.
3. Bring your own cloth bags.
Perhaps you can make a special bag for your child's favorite finds. Also, give your children a small change purse to allow them to pay for some items themselves. Not only will you be teaching them about money, but they will be delighted to buy their own food.
4. Do your research.
Make sure to visit the Web site of the farmers' market in your area to check for special demonstrations or music that your child can enjoy.
5. Be sure to head out early.
Plan a special breakfast with your child or pick up some hot chocolate on the way.
6. Pack a picnic lunch and bring a blanket.
You can enjoy some of the fresh items you found and spend a great day in the sun with your little ones.
7. When you return home, make dinner with your child using the ingredients you purchased that morning.
Some farmers' markets will have live demonstrations that your child is sure to love. From basket-making to woodwork, they can see how artists craft something natural into something wonderful. Local restaurants may have a chef demonstrating great recipes that you can recreate at home with your market finds.
Your local market may also have vendors with fresh honey. Children can take the opportunity to have a real beekeeper tell them about retrieving the honey from the hives. Check your local farmers' market Web site for great information, directions, hours and their calendar of activities. View a listing of local Charlotte-area farmers' markets.
Kelly Yale is a Charlotte Parent blogger, a freelance writer and mother of two boys.