7 Places to Score Good Deals in Charlotte
Treasures await in these thrift and consignment stores.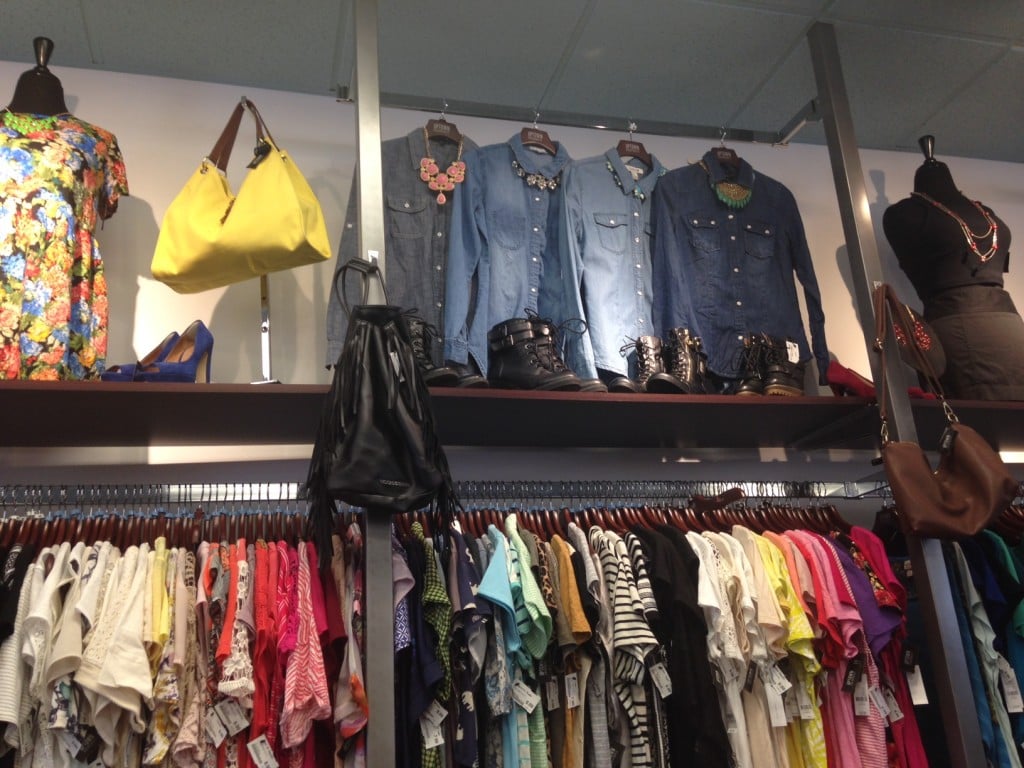 I don't know about you, but I love consignment stores and thrift shops. From a cute handbag at a fraction of the cost, designer jeans that are already perfectly broken in, a desk you can upcycle with the help of Pinterest, a CD you lost and thought was gone forever, a book you always wanted to read but can now snap up at $1.50, the possibilities go on and on. Consignment stores are also a great place to stock up on children's clothes and toys (or sell, for that matter). If you're looking for a good deal, check out a few of these places. I dare you to return home empty-handed.
---
What is it about arranging items by color that makes them more attractive? A rainbow of clothing and accessories greet each customer, and the store prides itself on selecting the most stylish offerings to resale. I spotted like-new athletic sneakers on a recent visit to the Huntersville store, rows and rows of jeans, many pairs of cute shoes and purses, and scored a pair of LOFT shorts new with tags for $5. I'll definitely be heading back soon. 9015 J M Keynes Drive, 8700 Pineville-Matthews Road, 9709 Sam Furr Road, Huntersville.
---
If you're looking to purchase or sell gently-used Gymboree, Janie and Jack, Children's Place, Justice, Motherhood Maternity, Kid to Kid is your place. They also offer new and used books and toys for purchase, as well as baby and sports equipment, and some maternity clothes. And what child doesn't love that kid-sized pink door at the entrance? Locations at the Arboretum, 3407 Pineville-Matthews Road; Park Road Shopping Center, 4211 Park Road; and Rosedale Shopping Center, 9931 Rose Commons Drive, Huntersville.
---
After hosting a successful pop-up boutique concept last year, the company recently opened a new store, GW Clothing and Home Decor Boutique, at the Leon Levine Opportunity Center. Although this model isn't quite the same as a consignment store, there will be deals galore. The format is designed boutique-style, with items arranged by color and style. And it's not just for women, either, there's also a men's section. As a bonus, the campus also features a bistro and additional clothing outlet. 5301 Wilkinson Blvd.
---
I'm in serious trouble now that I've discovered I can look for incredible consignment deals from the comfort of my own home. Nouveaux has a storefront in Ballantyne Village, but you can also shop their inventory online. It's a bargain-hunters dream, really, with brands like Kate Spade, Christian Louboutin, Lilly Pulitzer, Louis Vuitton, and Lululemon. They also offer a personalized in-home consignment service. 14835 Ballantyne Village Way.
---
You know a place knows what they're doing when your children ask to go there on a regular basis. There is always a great inventory on children's clothing in the store, as well as new accessories to choose from provided by local vendors, and the second floor houses maternity, toys, books, and DVDs. If you keep an eye on their Facebook page, you can be the first to score deals before they even go on the racks. 20830 Torrence Chapel Road, Cornelius.
---
Once Upon a Child is another store that carries brands such as Abercrombie, Carters, Melissa and Doug, Children's Place, Gap, and Old Navy. With several locations in the area, it's hard not to find what you're searching for in clothes, shoes, costumes, dancewear, swimwear, and outerwear. Locations in Charlotte, Concord, Gastonia, Matthews.
---
It's not consignment, but proceeds go to a good cause, and I've found many great deals at locations all over town in the past. My kids and I both love to go there to browse the books, and a few years ago I found a natural cherry wood desk and chair for my son's bedroom for $50. We've also purchased other pieces of furniture there over the years, and you can also find new building materials, vintage items for auction, patio furniture, washers and dryers, etc. The location on Wendover Road is also home to Julia's Café and Books. Browse from a large selection of used books, including an area of children's books, while sipping on a latté for you and hot chocolate or smoothie for them. I found a few "Magic Treehouse" series books there last year. Find three Habitat for Humanity ReStore locations in Charlotte (Wendover Road, Westerly Hills Plaza and University Area), plus locations in Matthews, Cornelius, Lincolnton and Monroe, and Rock Hill, S.C.