7 30-Minute Ways to Make Time for You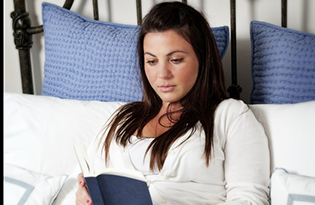 Being a mom is an important job. You are laying the foundation for your child's values, education, interests, abilities and personality. But it's also important that you take time for yourself. Taking time to grow as a person makes you a more interesting person to be with and will make you feel better about yourself.
You don't have to spend a lot of time or money on personal growth, just set aside 30 minutes a day and try some of these ideas or ones of your own.
1. Go to the library. Spend 30 minutes reading about a subject you know nothing about. It might be about growing roses, cooking Chinese food, life in Australia or any other subject of interest. You might be so interested you check the book out and take it home to finish.
If you don't have time to go to the library, research a new topic online. There's a wealth of information out there.
2. Write a family letter. Ever get a long, single-spaced Christmas letter that you didn't bother to read? Take 30 minutes and compose a one-page, double-spaced letter hitting your family's highlight for the year. Make it funny, creative and irresistible. Send it out as soon as it is written while people have more time to read mail.
3. Start a journal. Go and sit in the mall for 30 minutes and write descriptions of the most interesting people you see. Do the same thing at the park, swimming pool or beach. Describe the scenery, your mood and the activities going on around you.
4. Learn another language. Get a language tape from the library and spend 30 minutes a day learning another language. You never know when it might come in handy. Your whole family can do this together if you like. It could become a mealtime activity.
5. Read a classic. Spend 30 minutes a day reading a famous classic or other well-known book. Pick something you normally wouldn't read. You can often find children's versions of the classics at the library that are much easier to understand.
6. Get in shape. Check out a fitness video from the library and spend 30 minutes a day getting in shape, or a half hour a day walking or biking.
7. Coffee with a friend. Meet a friend for coffee. Keep each other up to date on your lives. Try to talk about things other than the children or household matters.