6 Places for Ice Cream and Cold Treats
Our picks for the best places to satisfy your sweet tooth in Charlotte.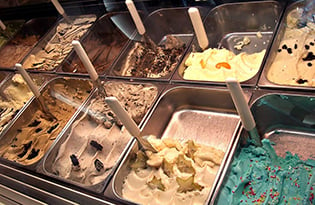 Wherever you go in the Charlotte area, you're bound to find a place that satisfies your sweet addictions. Here are a few that our staff considers to be the best of the best.
---
1. Carolina Creamery
Family owned with homemade ice cream including a multitude of flavors.
11300 Lawyers Road, Mint Hill
704-545-0401
---
2. Carolina Cones
From the fresh smell of waffle coffee to the array of ice cream choices, everyone will feel like a big kid again.
Mon.-Sun., 10am-10pm
20801 N. Main St., Cornelius
704-892-8190
---
3. Jack's Ice House
For those hot days, enjoy shaved ice and a cool environment.
Open during the summer: Fri., 5-9pm; Sat., 1-9pm; Sun., 1-8pm
8475 Charlotte Hwy., Fort Mill, SC
704-770-6317
---
4. King of Pops
Popsicles on wheels. You can find them floating throughout the Charlotte area.
charlotte.kingofpops.net
---
5. Smelly Cat Coffee
An inviting coffeehouse filled with a wide variety of tea selections including Caramel Apple Cider, and ice cream.
Sun.-Thurs., 6am-8pm
Fri.-Sat., 6am-10pm
514 E. 36th St.
704-374-9656
smellycatcoffee.com
---
6. Tony's Ice Cream
A family-owned restaurant that offers good food and great ice cream flavors treats, plus homemade milkshakes.
Mon.-Thurs., 7am-8pm
Fri.-Sat., 7am-10pmSun., 10am-10pm
Summer Hours start mid-March, open every night until 10pm
604 E. Franklin Blvd., Gastonia
704-853-0018
tonysicecream.com
---
BONUS: The Secret Chocolatier
If you love chocolate, stop by this place: home of decadent chocolate, confections and award winning cakes.
2935 Providence Road, Suite 104 | Closed on Mondays, Tues.-Fri., 10:30am-7:30pm; Sat., 11am-7pm; Sun., Noon-4pm
11318 N. community House Road, Suite 203 | Mon.-Sat., 10am-6pm; Closed on Sundays
704-323-8178
thesecretchocolatier.com