6 Cool Watering Holes for Families
Beat the summer heat by cooling off at one of these local watering holes.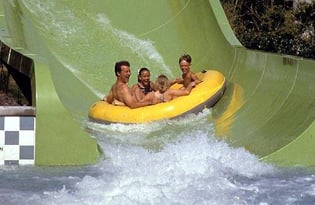 Carowinds
The Place: Carowinds Water Park. 704-588-2600; carowinds.com
The Attraction: Venture to Boomerang Bay and glide through giant tubes in total darkness, hang out in Crocodile Run River or get the whole family together at the Great Barrier Reef wave pool. Kids can play on the three-story jungle gym with water sprayers and drenching buckets, and the Kangaroo Lagoon is a kid-pool area for infants and toddlers.
Take a Break: Reserve a Cabana and enjoy the day secluded from the crowds, relaxing in your own private paradise.
The Operation: Summer hours, 11 a.m.-7 p.m. daily. Costs: $36.99-$59.99 for the day, $12 for parking.
---
Great Wolf Resort
The Place: Great Wolf Lodge, Concord. 704-549-8207; greatwolf.com
The Attraction: From toddlers to adults, this indoor water park is designed with the whole family in mind. Run through the four-story tree house, or grab your family members and ride together through the six-story Howlin' Tornado. With water slides, wave pools and an outside pool, you'll never run out of activities.
Take a Break: Dining and shopping for mom and dad; daily activities for kids, including mini-golf and an arcade; or winding down at the spa with the family are good ways to spend time out of the water.
The Operation: The water park is exclusively reserved for overnight guests, and an adult must accompany children under the age of 18. Open 10 a.m.-8 p.m. daily with check in at 4 p.m. and check out at 11 a.m. Guests can play in the water park as early as 1 p.m. before checking in or all day after checking out. Cost: $189.99 to $389.99 per night with water park passes included. Kids eat free during the summer.
---
Lake Norman
The Place: Lake Norman, Cornelius, Davidson and Huntersville. 704-987-3300; visitlakenorman.org
The Attraction: With more than 500 miles in shoreline, lake activities can mean a variety of things from water skiing, jet skiing and wakeboarding to rowing, fishing and sailing. Several marinas grace the lake and provide rentals.
Take a Break: From family-friendly dining by the lake to boutique shopping and art galleries, you will never find yourself without something to do.
The Operation: Find venue hours and costs at visitlakenorman.org.
---
Park Pools
The Place: Cordelia Pool, 704-336-2096, or Double Oaks Pool, 704-336-2653; parkandrec.com
The Attraction: Open swim throughout the summer, plus free swim lessons and summer swim leagues for youths.
Take a Break: Daily programs are scheduled throughout the summer, or pack a picnic to enjoy at the park or playground.
The Operation: Monday-Friday, noon-6 p.m.; Saturdays, 11 a.m.-5 p.m.; Sundays, 1-5 p.m. Cost: $1.
---
Ray's Splash Planet
The Place: Ray's Splash Planet. 704-432-4729; rayssplashplanet.com
The Attraction: A one-of-a-kind indoor water park that features the Vortex, a quick current pool; a three-story slide in the shape of a figure eight; and water stations that let you squirt friends. Watch out for the overhead buckets or "meteor showers" throughout the park because once they fill up, expect to get drenched from above.
Take a Break: There is a fitness center for adults and an outside playground for kids, or grab a bite to eat at the concession stand.
The Operation: Mondays and Fridays, 10 a.m.-7:30 p.m.; Tuesday-Thursday, noon-7:30 p.m.; Saturdays, 9 a.m.-6:30 p.m.; and Sundays, 1-6:30 p.m. Costs: $6-$11.
---
Whitewater Center
The Place: U.S. National Whitewater Center. 704-391-3900; usnwc.org
The Attraction: Check out the world's largest man-made recirculating river that offers rafting options at different levels, from family to extreme, as well as adventures in kayaking, paddle boarding and canoeing on the Catawba River. Zip lining and mountain biking are other ventures to consider.
Take a Break: Watch all the river action and have lunch or dinner at the Rivers Edge Bar and Grill.
The Operation: Summer hours, Monday-Friday, 10 a.m.-6 p.m.; Saturday-Sunday, 10 a.m.-7 p.m. Costs: $34 to $89.