6 Carolina Camping Destinations
Carolina camping destinations with good reputations for families.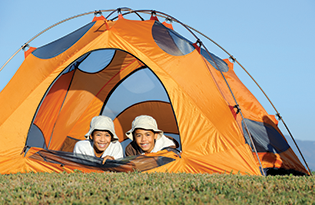 There's nothing like being cocooned in a sleeping bag with your loved ones, far from cell phone outlets and handheld game chargers, to encourage family bonding. Camping with your children creates memories they'll treasure for years, even if they grumble about having to help pitch the tent or gather kindling. Even "RV-ing," while offering more comforts of home, builds family togetherness.
But even the most well-intentioned camping trip can be disastrous if you set off without a specific destination or, worse, the place you think will be great reeks like a sewer or is full of rowdy, partying college students. Whether you're into the mountains, on the coast or somewhere in between, here are five camping destinations with good reputations for families:
---
1. Black Mountain Campground and Briar Bottom Group Campground
Approximately 20 miles east of Burnsville, off State Road 80 South
fs.usda.gov/recarea/nfsnc/recreation/camping-cabins (search for campsite names)
These two side-by-side campgrounds in the Pisgah National Forest are booked and maintained separately. Each has its own appeal:
With its spacious, shady campsites, riverside location and laid-back atmosphere, Black Mountain campground has attracted return visitors for generations. Each of the 43 sites offers a picnic table, fire ring with grill and lantern post. RVs are welcome but no hookups are available. Sparkling bathrooms with separate shower facilities are a hallmark, thanks to the attentive and industrious volunteer hosts, who also sell firewood, ice and ice cream.
Take plenty of towels to dry the kids off after they hit the swimming hole in the South Toe River, and take advantage of the catch-and-release trout fishing opportunities, especially if you don't mind hiking away from the busy camping area.
Want to go higher than the 3,000 feet altitude where Black Mountain sits? Visit Mount Mitchell — the highest peak east of the Mississippi. It's about a half hour's drive away on the Blue Ridge Parkway. There are also plenty of biking and hiking trails — some with waterfall viewing — leading from the campground or nearby, and the campground's circular layout and gravel drives make bike riding a top kid activity. Reservations are strongly recommended, especially on weekends. Call 828-675-5616.
Sharing the same entrance as Black Mountain but seemingly worlds away, Briar Bottom is officially a group campground, but since a group need only consist of two people, it's ideal for families. On weekends, the facility is popular with church youth groups, but weekdays make it an appealing option for families who want a little more breathing room than Black Mountain offers.
Each large site offers a shelter with two tables, so families can spread out. There's a field for playing games, loop for riding bikes, and ready access to the South Toe. The campground has its own resident hosts, who can provide firewood, but for amenities such as showers and ice, campers need to hike or drive down to Black Mountain Campground. While the $55-per-night fee is more than double what Black Mountain charges, you can always go in on a campsite with another family; there's plenty of room. For reservations, call 877-444-6777.
---
2. Julian Price Memorial Park
5580 Shulls Mill Road, Blowing Rock
828-963-5911
blueridgeheritage.com (search for Julian Price)
Located off the Blue Ridge Parkway near Blowing Rock, Julian Price Memorial Park boasts the largest campground on the parkway as well as a well-trafficked picnic site. It offers serenity for nature lovers, in part due to the 47-acre Price Lake, where you can canoe, fish or swim.
The campground's 197 sites welcome RVs and tents, and there are more than 30 small sites for tents only. All have fire rings, and firewood is available upon request. (Campers can't bring their own wood due to the non-native invasive insects that could tag along in your logs and damage the trees along the parkway.)
Kids of all ages can enjoy park ranger-interpreted programs at the amphitheater or along a hiking trail to soak in some natural and cultural history along with the sun. Take a side trip to Blowing Rock — just 20 miles away — for fine dining, antique shops and other amenities. Grandfather Mountain isn't far either, and offers native animal exhibits, a nature museum and its famous mile-high swinging bridge.
---
3. Stone Mountain State Park
3042 Frank Pkwy., Roaring Gap
336-957-8185
ncparks.gov
Thanks to its imposing 600-foot granite dome, Stone Mountain is popular with intrepid rock climbers and wild mountain goats. It's also a go-to vacation destination for family campers.
When you're not sleeping in your tent or RV in one of the park's 80-plus sites (some have electric and water hookups), stake out the perfect family hike from among more than 16 miles of trails. Don't be surprised to find horses at the crossroads of hiking and bridle trails.
For fishing fans, Stone Mountain is a highly regarded trout destination with more than 17 miles of designated trout streams, including The East Prong of Roaring River, a stocked stream classified as delayed harvest, which means campers can only fish there four months out of the year using single-hook, artificial lures. Then there are Bullhead and Rich Mountain creeks, catch-and-release streams open for fishing year-round.
Want to give your kids a small dose of history? Check out the mid-1800s-era Hutchinson Homestead, complete with a log cabin, barn, blacksmith shop, corncrib, meat house and original furnishings.
---
4. Jordan Lake State Recreation Area
280 State Park Road, Apex
919-362-0586
ncparks.gov
If you're a water-loving family craving a "staycation," Jordan Lake may be just the ticket. For Triangle families, it's a few minutes away, but you'll feel miles from home. This 14,000-acre lake is ringed by nine recreation areas featuring 1,000 campsites of varying sizes, amenities and facilities, so whether you're RV-ing, car camping or backpacking to your site, you'll find something suitable.
Many people go to Jordan Lake for the clean beaches and boating opportunities, whether you bring your own kayak, canoe or a pontoon boat. The lake's marina, just north of U.S. 64, is privately operated and offers ethanol-free gasoline, boat storage, boat rentals, access to boat ramps and a convenience center.
Jordan Lake is also a mecca for bird watchers because it supports the largest concentration of bald eagles in the eastern U.S. For the best viewing, seek out areas that afford a wide view of the lake, including Vista Point, Ebenezer and Seaforth recreation areas.
---
5. Cape Hatteras National Seashore
1401 National Park Drive, Avon
252-473-2111
nps.gov/caha
If you don't mind sand in your sleeping bag, camping is the best way to fall asleep to the sound of ocean waves breaking. And if pristine is what prefer, the four public campgrounds along Cape Hatteras National Seashore fit the bill. Established in 1937 as the country's first national seashore, Cape Hatteras National Seashore preserves more than 70 miles of Outer Banks coastline.
Each campground — Oregon Inlet in Nag's Head, Cape Point in Avon, Frisco in Frisco and Ocracoke on Ocracoke Island — offers more than 100 sites for both tent and RV-camping. Only the facility at Ocracoke accepts reservations, due to its remote, boat-only access; the rest are rented on a first-come, first-serve basis. Toilets and a bathhouse are available, but cold water is on tap in the showers and it's strictly BYOS — bring your own soap.
Serious fishermen will no doubt try their hand at surf fishing, considered some of the best on the East Coast. When the kids get tired of collecting shells, body surfing, making sandcastles or flying kites, visit some of the more famous lighthouses on the Outer Banks: Cape Hatteras, Bodie Island and Ocracoke lighthouses. Each of these communities has its own character and attractions, including seafood restaurants, historical societies and surf/tackle shops.
---
6. Hunting Island State Park
2555 Sea Island Pkwy., Hunting Island, S.C.
843-838-2011
southcarolinaparks.com/huntingisland/introduction.aspx
For those who want their beach camping experience punctuated by palm trees, Spanish moss and subtropical breezes, consider Hunting Island State Park near Beaufort, S.C. The state's most popular park, it offers 5 miles of undeveloped beach, marshes, maritime forests, and a saltwater lagoon as well as 200-plus campsites on the northern end of the island near the ocean. (It also has a cabin with central air, but that's another story.)
Keep the kids active — and therefore harder for mosquitoes to find — with a visit to the playground. Stroll along the marsh boardwalk, hike or bike on the 8-mile island trail, or take it easy 1-mile campground walk. Surf and marsh fishing are popular, as is trekking to the Hunting Island Lighthouse, one of the only publicly accessible lighthouses in South Carolina. The viewing area at 130 feet affords a panoramic view of the Atlantic Ocean. On the way back to North Carolina, take in the Low Country's many attractions and eateries (southcarolinalowcountry.com).
---
Suzanne Wood is a Raleigh-based freelance writer and mother of three.