50 Shades of Grey Nurseries?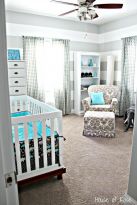 Did you know that we are in the midst of the biggest baby boom in 40 years? Do you know that Christian Grey is credited with creating it? Now that the book has produced an onslaught of surprise pregnancies there are an inordinately large number of nurseries being painted gray, too! 50 Shades of Grey was a non-traditional (to say the least) book that is now inspiring a non-traditional selection for paint color, but one that plays very nicely with others:
Gray and Turquoise –  This bright blue-green adds a fun pop of color to the soft gray counterpart.
Gray and Pink – Although pink has been a popular nursery color for years, it is making a proud resurgance in both pale and vibrant hues when paired wtih gray.
Gray and Orange – This is a fun combination, but do not use too much orange since it can overstimulate your baby.
Gray and Yellow – While it may be an unlikely mix, pairing cloudy gray with the bright sunshine yellow brightens up even the cloudiest og days.
Barbara Green believes you CAN have it all: kids, pets, and a beautiul home. She is the owner of Sensibly Chic Designs for Life and the host of Ask the Design Diva radio show and insists you don't have to spend a million dollars to look like you did!