5 Ways to Survive a Road Trip With Your Toddler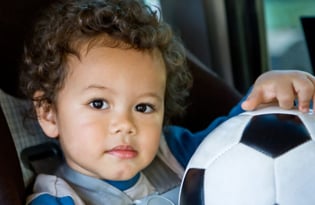 Traveling with your toddler is all about survival through entertainment. There are only a few instances when parents are truly obligated to entertain their children: when they are sick; when you make them wait for you in a boring place like  doctor's office or hair salon; and when you take a long trip. Here are five tips for survival:
1. Overnights. Break up a long trip with overnights in a hotel. The new surrounding is exciting and you can promote a regular bedtime to help avoid cranky behavior the next day.
2. Pillows. Don't forget to pack a pillow to avoid the crooked-neck position when sleeping in the car. A proper pillow will promote good, uninterrupted sleep.
3. Backpack: Liberally fill you toddler's backpack with toys and activities to keep them occupied. Some examples: small spiral notepads, pencils, tiny markers, colored pencils or pens, travel Magna Doodle, balls or animals with suction cups, small interactive books with flaps (or any small toy with a button to push or with other safely moving parts). It is also important to pack snacks and goodies for kids to much, such as a little Ziplock bag of crackers, half of a peanut butter-and-jelly sandwich, lollipops and sippy-cup or juice boxes. These items give your toddler freedom and choice while in a cramped space.
4. Pit stops: Take 15- to 20-minute pit stops every two or three hours to avoid cabin fever and crankiness. Set a goal for each pit stop, such as potty break, lunch or running around in a grassy area to stretch legs.
5. The Grassy Area: Just letting your child run free for a while can be therapeutic for both you and your tot. You too can run, tickle, give a piggy-back ride, or if planned ahead of time, play with a toy such as a soccer ball.
Adapted from the book "I Brake for Meltdowns."