5 Top Haunted Places in North Carolina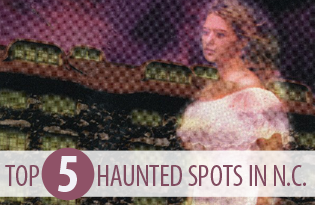 For some truly spooky, Halloween fun with an education twist, consider visiting on of the following five top haunted spots, or encourage kids to do a little research and share the ghost story with friends and families for some Halloween fun.
1. Grove Park Inn (Asheville) is haunted by the Pink Lady. She is believed to be the spirit of a young girl who was wearing a pink gown when she fell to her death from Room 545 in the 1920s. Hundreds of guests and employees have reported inexplicable things over the years, such as cold chills, lights turning on and off, and a figure in a pink dress that vanishes as quickly as it appears.
2. St. James Cemetery (Wilmington) is reportedly haunted by several spirits, including Samuel Jocelyn, who was accidentally buried alive.
3. Hammock House (Beaufort). Bloodstains mysteriously appear periodically on the third floor. Sometimes, an orchestra, laughter, and clanking (like that of swords engaged in a deadly duel) can be heard. Ghostly cries, both male and female, have been reported.
4. Chowan College (Murfreesboro, near Elizabeth City). She is known as the "Brown Lady" because she is seen in a plain brown 'mourning' dress. A young woman who lost her fiancé in the Civil War, also lost her will to live. She died within months of her beloved of a broken heart. But her spirit is still seen on campus.
5. Hannah's Creek Swamp (Smithfield, near Raleigh). A group of looters known as The Marauders were hanged here after murdering several people, including a Confederate officer's parents. Legend has it that the spirits of these men still linger where they met their fate. Dozens of apparitions have been seen floating among the trees.
Terrance Zepke is the author of numerous ghost books, including "A Ghost Hunter's Guide To THE Most Haunted Places in America", "Ghosts of the Carolinas for Kids", "The Best Ghost Tales of North Carolina", and "Ghosts and Legends of the Carolina Coasts".
Related Articles:
> 2012 Haunted Houses and Trails 
> 15 Ways to Enjoy Fall With the Family
> 2012 Fall Festivals and Fairs
> Pumpkin-Carving Safety TipsÂ
> Peter, Peter Pumpkin Eater: Fresh Pumpkin Recipes