5 Tips to Taming the Toys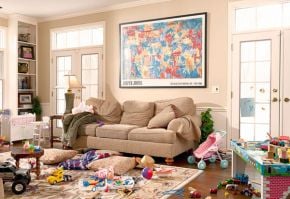 Are you feeling overwhelmed by the influx of games, toys and crafts that follow each holiday season? Do you want to take back your home and get the clutter under control? Use these five easy steps this weekend to tame the toys overtaking your home.
1. Storage bins – It's no secret that kids today have too much stuff. In order to raise them wtih an appreciation for what they are given, put all but 10 or 15 toys into large storage bins and hide them in the attic, basement or garage. Let them play with and enjoy the "exclusive" selection of toys for a couple of weeks, then trade them out for some new ones that were in the storage bins. This will keep them from getting bored with their toys and give them the ability to see each toy as a new addition when it is pulled from storage.
2. Cubbies – There is a reason every preschool in the world has these. They work! Use storage bins to corral the games and craft supplies with smaller pieces before putting them in the cubbies, and place the larger toys and books directly on the shelves. Clear storage bins allow your child to see what's inside without having to pull them down. You can also color code the bins for children who can't read, or label the bins for kids who can read.
3. Storage ottomans – Of course they are a great place to put your feet up when watching TV, but they are also a great place to hide the clutter that kids bring in. The storage ottoman can also help you implement step 1, as it helps you determine how many toys to leave out. If it doesn't fit in the ottoman, it goes into the storage bin for the next round. If the kids like to play while watching television, teach them to put everything back inside the ottoman when they are done. You can also put a storage ottoman in front of a window in your child's bedroom to do double duty as toy storage and cozy window seat to cuddle up with a book.
4. Over-the-door shoe rack – This simple rack can help organize every room in your home. Hang it on the back of the bathroom door to store your kids bubble bath, shampoo, brushes, bath toys and washclothes. Hang one in the family room to organize video games, controllers, playing cards and remote controls. In the bedroom you can organize smaller toys, art supplies, hair accessories and jewelry. In a homework area you can store a calculator, scissors, glue, a dictionary and any other study aids that may be useful. I even use one in my kitchen for extension cords, batteries, utensils, cookie cutters, and other odds and ends.
5. Armoire – Now that everyone has wide-screen flat panel TVs, entertainment armoires have become obsolete. You can find them very inexpensively at your local Goodwill, Salvation Army or Habitat ReStore. Paint the outside to coordinate with your decor and paint the inside of the doors with chalkboard paint to encourage your kids' creativity. Cover the inside back wall with corkboard to hang the latest artistic creation (and also hide the hole for the TV.)
Use the lower shelves for toys and games, use bins for games and crafts with small pieces, and use the top shelf for games you don't want the kids to touch without your supervision.
At first it may be a challenge to get your children to cooperate with the organization, but they will quickly learn that following a system allows them to spend more time playing and less time looking for missing pieces. What other ideas do you have that you'd like to share with other parents?
Barbara Green believes you can have it all: Kids, pets and a beautiful home. She is the owner of Sensibly Chic Designs for Life and the host of Ask the Design Diva radio show, and insists you don't have to spend a million dollars to look like you did.