5 Tips to Organize Sporting Equipment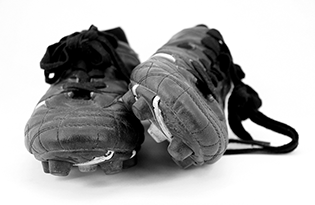 1. An over-the-door pocket shoe rack is perfect storage for soccer season. Use the pockets to store cleats, shin guards, gloves, rolled-up shorts and T-shirts, socks, and water bottles. Put the soccer ball in a mesh bag and use a heavy-duty clip to hang it from the top of the rack.
2. Rubbermaid colored storage bins are great because you can use the color in two ways. Each person in the family can be assigned a color and all of that person's sports equipment goes in that bin, or you can assign a particular sport to each color and everything related to that sport goes into that color bin.
3. You can repurpose a coat rack for sports storage. Hang mitts, gloves, jerseys and helmets from the coat hooks and use the bottom umbrella section for tall items like lacrosse and hockey sticks and baseball bats.
4. Repurpose a garden tool holder by hanging mesh bags (from the laundry section of the dollar store) on the hooks for each purpose: one bag for beach sports, one for park sports, one for little league, etc. Then all you have to do is grab one and go each time you leave.
5. Rubbermaid also makes an affordable ($42 on Amazon.com) sports storage center that organizes all of your sporting goods in one convenient location. It holds bats, sticks, helmets, skateboards, gloves, goggles and racquets with ease. It's also got a removable mesh bag for balls so you can easily transport them to practices.
Get more organization tips from Barbara Green in her blog, Home With Kids.
Barbara Green is the owner of Sensibly Chic Designs for Life and the host of the syndicated radio show Ask the Design Diva.  
Related Links:
> Smart Spring Clean-Up
> 5 Household Cleaning Tips