5 Tips to Keep Your Kids Healthy at Home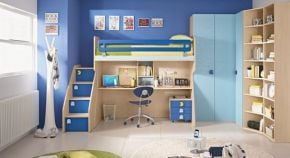 As parents, we want the best for our children. We want them to be healthy and happy and not suffer. So if there were 5 simple things you could do to improve the health and quality of your child's life would you do it? Allergies and asthma attacks land millions of children in the emergency room and doctor's office each year. All you have to do is make these simple improvements to your home and your child will have the best possible environment to grow and develop as s/he should.
Paint – Make sure your walls and wallcoverings have no VOC's (volatile organic compounds). Studies show that VOC's can cause eye, nose, and throat irritations, headaches, loss of coordination, damage to the liver, kidney, and central nervous system. Some have shown to cause cancer in laboratory animals and are suspected or known to cause cancer in humans.
Flooring – Allergists and pulmonary specialists advise against using wall to wall carpeting in homes where allergy and asthma sufferers reside. Carpeting is a haven for dust mites and pet dander. Replacing wall to wall carpet with a hard surface flooring like wood, tile, or vinyl will allow your child to breathe much easier. 
Window Treatments – The Academy of Allergies and Asthma advises the elimination of fabric window treatments and use of plantation shutters instead. Since even wood blinds can harbor dust mites and other micro-organisms on their cords and tapes, the Academy recommends selecting plantation shutters since they have no fabric and they are easier to keep clean and allergy free. 
Bedding – Standard mattresses are a breeding ground for dust mites, which feed off the dead skin cells that are shed during the night. Mites' feces in your mattress induce wheezing. Another problem with standard mattresses is that they are made from petroleum based products, so your wheezing issues are multiplied by the VOC issues. That is why Sensibly Chic only carries organic latex and soy mattresses covered in bamboo.They are natural, do not off-gas, and dust mites cannot survive in them.  
Furniture – Be sure to purchase only furniture that is Greenguard certified and made in America. Foreign furniture is often coated in finishes that off-gas and have toxic chemicals. Greenguard certification is done by a third party and ensures that no VOC's or other harmful chemicals will be emitted from the furniture. Children are more susceptible to these chemicals because they breath much more air proportionally to their bodies. 
Do you have any other suggestions for removing allergens from your child's room? Please share with our readers!
Barbara Green is the owner of Sensibly Chic Designs for Life located at 830 Lamar Avenue in Charlotte and host of Ask the Design Diva radio show. She believes you CAN have it all: pets, kids, and a beautiful home.