5 Tips for Surviving a Santa Visit
Advice to help keep your meet and greet with St. Nick free from meltdowns.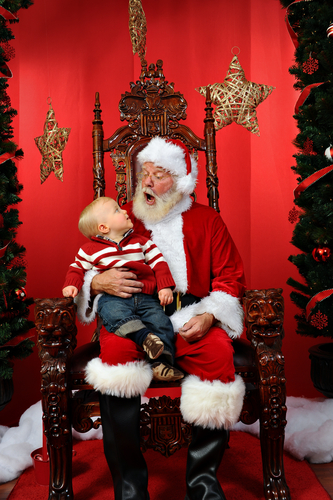 We all have dreams of dressing our kids up in their snazziest holiday wear and toting them off for the annual Santa visit and photo. Some children love the thought of visiting jolly old St. Nick, while others are, well, petrified. One of my favorite photos to this day shows my then 3-year-old daughter chatting away on Santa's lap with one finger poised thoughtfully in the air, while my 10-month-old son has his eyes opened wide and lower lip thrust out in fear. Moments later, the tears erupted. Now that I've been a parent for a while, I can understand I probably didn't prepare for that Santa visit very well.
SEE ALSO: Where to See Santa in Charlotte
Below are five tips to help you survive the annual visit to Santa with your kids.
1. Plan ahead. Read some fun books or watch a few television specials or movies that feature Santa. You can even point out Santa during a shopping trip before your actual visit to get prepared.
2. Schedule accordingly. Nothing wears a child (and Mom and Dad!) out more than standing in a long line with other families waiting to see Santa. If possible, try and plan your visit during an off-peak time (early in the season or during a weekday) to avoid the stress of a crowd. Make sure your visit doesn't fall during his regular naptime/mealtime, or disaster is sure to ensue.
3. Take a goodie bag with you. Fill it with snacks, a drink, favorite toys and a lovey. She may need a distraction and you don't want to be caught unprepared. Include an emergency change of clothes (even for toddlers and preschoolers).
4. Have something for your child to give Santa. It doesn't have to be anything elaborate—a wish list or candy cane will work fine. He'll feel more confident knowing what to expect and armed with an action plan. Also, stay positive. Words like "Don't be afraid of Santa" have no place in a Santa visit unless you want to strike fear in the heart of your child.
5. Get in the picture. As adults, many of us are reserved the first time we are introduced to someone new. It's normal that kids react the same way when handed over to a bearded man in a bright red suit chanting "ho, ho, ho!" If she is on the verge of a meltdown, ease her mind by offering to get in the picture—just remember to change out of your sweatpants before you leave the house.