5 Tips for First-Time Family Camping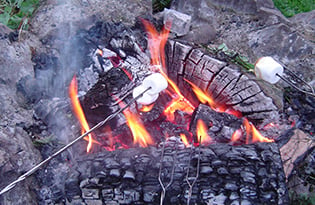 Camping isn't just for kids. Parents can enjoy it right along side their children if they take time to plan. Here are some suggestions for making it an adventure to remember.
1. Reserve a campsite.
Pick somewhere within easy driving distance and reserve a campsite. Look online for county and state parks that offer campsite reservations.
2. Pack proper gear.
Make a list of items you'll need and borrow the rest from friends, family or neighbors. You can rent big items, such as tents, from stores such as REI. You'll also need sleeping bags/pads, firewood/starter, flashlights, drinking water, sturdy shoes and garbage bags.
3. Plan simple meals.
A cooler filled with drinks, hot dogs, along with breakfast bars, instant oatmeal, fruit and nuts will do the trick. Don't forget ingredients for s'mores!
4. Go over safety rules.
Remind kids to stay away from the fire, not to eat anything growing in the wild, and to be aware of animals indigenous to the area.
5. Let kids explore.
Task your children with finding a special rock or stone to make into a necklace or create a treasure hunt with prizes.
Source: education.com
Related links:


15 Things to Pack for your Family Camping Trip

5 Carolina Camping Destinations

By Car: 4 Family-Pleasing Vacation Destinations