5 Tips for Decorating Small Kids' Bedrooms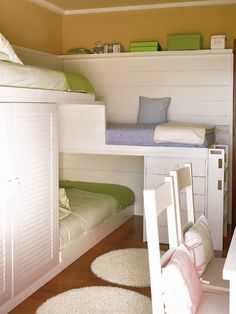 Are you embracing the small home movement and doing away with your McMansion in order to live a more simple life? Or are you in a home that is still under water but your family has grown and you need to make better use of the space you've got? We've got 5 tips for making the most of your small space for kids. The first tip is to build up. The room at the left might seem small for one, but with building up the wall with bunk beds you've got enough beds to sleep three kids and you still have room for a desk! This is an ideal scenario for a grandparent's home.
Tip two is to make a small room seem large by creating an accent wall with a scenic wallpaper mural. Whether you select a cityscape as shown, or decide on a forest, outer space, or any other theme, the vastness of the graphic gives the illusion of having vastness in the room, whether you are in a room the size of a closet or not.
Tip three recommends building a wall to wall custom drawer base to accommodate the mattress. It elevates the bed giving the illusion of more height to the space, plus it adds plenty of storage to help eliminat clutter, which always makes a room feel smaller.
Tip four is another idea for building up, this time it is a platform for the bed, but allows easier access by incorporating stairs. The little nook created by the staircase makes the ideal area to tuck in a desk, so a 5 by 8 foot area affords you a whole lot of efficient use of the space. The use of recessed LED lighting in both the ceiling and the staircase illuminates the area without needing lamps to take up space or be knocked over in the tight quarters.
Tip five is to attach shelves and bins directly to the wall instead of crowding the room with furniture. This storage system was created using plumbing pipes, flanges, and reclaimed lumber for a cool, industrial vibe, but you can use any sort of sturdy wall shelves. This also frees up the floor space as well.
Do you have any special tips for making a small kid's room look and function bigger? Please share your ideas in the comments section below.
Barbara Green is the owner of Sensibly Chic Designs for Life and the host of Ask the Design Diva radio show. She believes you CAN have it all: kids, pets, and a beautiful home. Her showroom is located at 830 Lamar Avenue and is open by appointment only. Mention Charlotte Parent Magazine when you call 704-608-9424 to schedule your appointment and receive the first 30 minutes free!