5 Tips for a Happy and Healthy Summer Camp Experience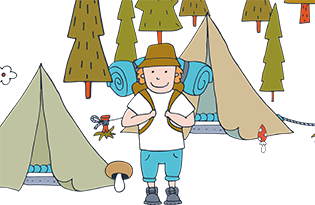 Before you pack them up for their first day of camp or week away at overnight camp, consider these recommendations from the American Camp Association to be sure they have a healthy, happy camp experience.
1 | SHOES MATTER
Be sure your child has appropriate closed-toe shoes for activities like soccer or hiking, and that dry fast when there are water activities.
2 | WATER BOTTLES
Pack a reusable water bottle and remind your child to drink lots of water and refill the bottle when needed.
3 | SUN SAFETY
Apply sunscreen in the morning before they get dressed, and teach big kids how to re-apply. A hat also can help shade their faces.
4 | PACK EXTRAS
For day camps, pack an extra set of clothes in case one set gets very wet or torn. For overnight campers, send enough clothes for your child to dress in layers if necessary.
5 | COMMUNICATION
Let your child know that if they feel sick in any way to talk to the camp counselor.