5 Things Moms Can Learn From Stay-At-Home Dads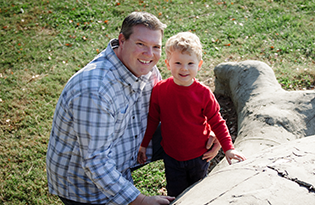 It's a sunny afternoon and the park is full of kids. Toddlers whoosh down the slide. Parents rock babies in their arms. It's the usual routine, except for one thing: Each parent is a man attending a part of a stay-at-home dads playgroup that gathers regularly to socialize and share child-minding responsibilities.
"It's awesome," says Austin Dowd, organizer of the group located in the Triangle region of North Carolina. The other dads agree. What's more, they have a few tips for moms. Here are five things moms can learn from stay-at-home dads.
1. Make connections.
Because at-home dads are in the minority, it can be alienating.
"It's important to have other dads to connect with so you know you're not alone," says James Kline of Apex (pictured), another group organizer and an at-home dad of two. This is true for moms too: Whether it's a weekly playgroup at the library or an informal get together with other moms, finding a community of families to talk to and swap child care with can help make the job easier and more enjoyable.
2. Fix things with duct tape.
Lunchbots or Ziplocks? Snugglis or Ergos? Amber beads or teething rings? The sheer volume of baby and toddler gear on the market is overwhelming. While the right stuff makes the job easier, it also makes it unnecessarily expensive and burdensome. Stay-at-home dads don't worry about stuff like that.
"I think dads are less inclined than moms to do what everyone else is doing," says Kline. "The moms in my neighborhood are more likely to buy the latest gadget for their kids, but we just fix up the old stroller with duct tape." 
3. Don't go it alone.
It can be hard to co-parent, especially if one parent works and the other stays home. "At first, I'd hear my wife talk about the kids and what they needed and for a while I felt like: 'I can figure this out on my own!'" says Scott Benner, an at-home dad of two and author of "Life is Short, Laundry is Eternal." "At first it was a bit combative. Then I realized that I needed to include her, so I've tried really hard to make sure I incorporate her ideas into what I'm doing with the kids."
It's good advice for moms, too, who may think they are supposed to have all the answers. Remember, everyone is figuring out this parenting thing as they go along.
4. Forge your own path.
In an era of Pinterest and endless streams of parenting advice, don't get overwhelmed by directives such as, "Is your child overprotected?" "Does he get enough outside time?" "Should I limit her screen time?"
"One thing I learned early on is that I just had to do this in a way that suited me," says Dowd. "At first I was concerned that there was one right way, but once I let go of that, it became so much easier."
The same holds true for moms. Whether you work a high-powered job or are raising the kids at home, let go of expectations and don't be afraid to forge your own path, tailored to your family's unique quirks and demands. 
5. Take a gender-neutral approach.
Sure, men still tend to mow the lawn and fix things around the house, but at-home dads can also soothe crying infants and make dinner. Likewise, Mom can throw a ball with her kids or teach them how to build a treehouse.
"This experience has really taught me that the reactions you have to your kids are based on your responsibilities, not your gender," says Benner.
Jill Moffett is a freelance writer and full-time mother in Durham. She blogs regularly at jillmoffett.com.
Read More: 


3 Smart Things for Stay-At-Home Dads