5 Sanity Savers for Summer Vacation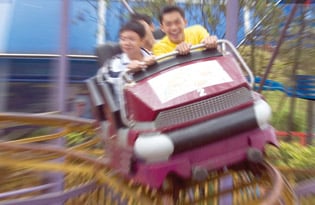 Whether driving or flying to your summer vacation destination, managing expectations should be No. 1 on your to-do list. Eileen Wacker, the mother of four children, ages 7-13 and author of a new children's book, "Silent Samurai and the Magnificent Rescue," says most children can act ungrateful and refuse to have fun in the most wonderful places, even though parents make sacrifices and save money all year. She says she's even seen the disappointment and meltdowns at Disney parks. After years of vacationing with her own brood, Wacker offers these strategies for traveling families:
1. Leave wiggle room in the schedule. Most kids are not naturally continuous "do-ers" on a vacation. If you have an agenda packed end to end with activities, the kids will start complaining and wish to stay somewhere and just hang out.
2. Let each person choose one event/activity and one restaurant. This is a huge hit with kids and helps to minimize complaints.
3. Set the expectation — traveling is a nightmare. Whether by plane or car, summer vacations are filled with other people on vacation and there are inevitable delays, traffic and waiting. Have a plan for the long waits; electronics may be your best friend during these moments.
4. Set ground rules regarding electronics. The ipods, phones, ipads, DSs and other devices are amazing and really help children stay distracted during the hectic travel challenges, but children should not check out and not participate in the family trip.
5. Require everyone to bring a book. My kids look forward to going to the bookstore to select a special book for our trips. I also give $1 per page for creating a journal; they can write words or draw, or both. (It's almost certain your kids will be asked to write something about their summer when school resumes, so they are getting a head start.)