5 Mother's Day Takeout Meals/Treats Across Charlotte
And don't forget dessert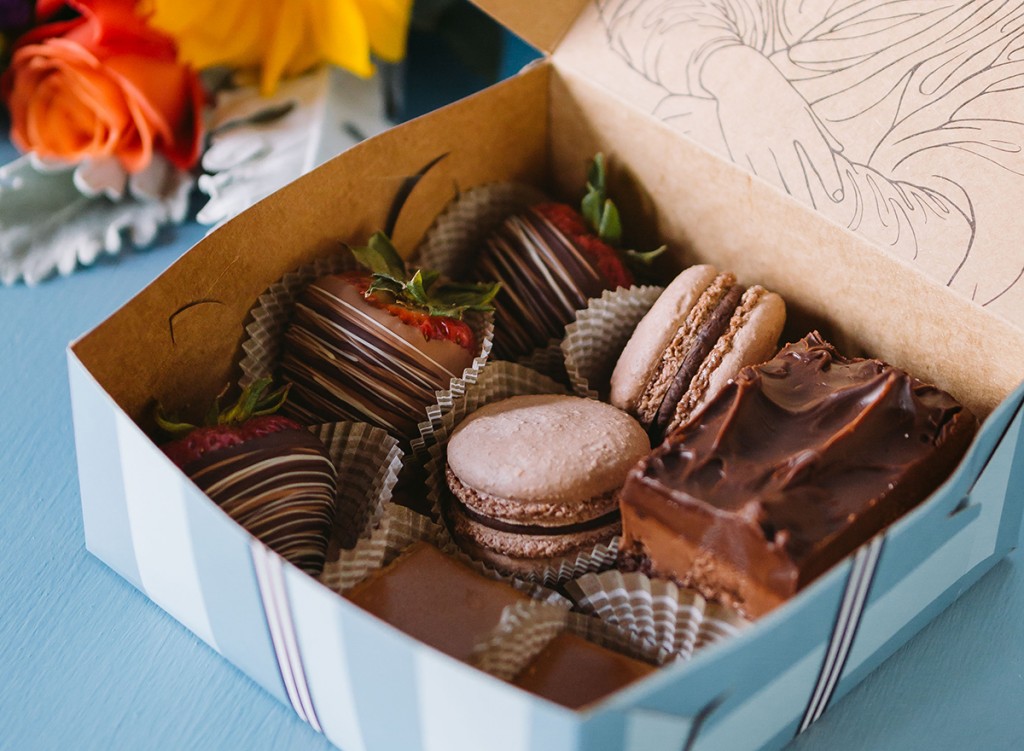 YES, THIS MOTHER'S DAY is a bit different. But you can still enjoy brunch and treats with Mom via pickup, delivery, and curbside service around the city. Below, we've handpicked four groups that are doing something special this year:
Amelie's French Bakery & Cafe
Multiple Locations
Curbside, takeout, or delivery
Amelie's does brunch items well, but we want to point your attention to the this year's gift packages: For The Chocolate Lover ($16) has three of their Chocolate Dipped Strawberries, two Chocolate French Macarons, two Salted Caramel Brownie halves and a Chocolate Layered Torte. For The Berry Lover ($16) has two Mini Fresh Fruit Tarts, three Berry French Macarons, a Lemon Raspberry Torte, and two Berry mousse Mini Mousse cups. The French Macaron Lover ($24) has a dozen French Macarons.
---
Sponsored
Showmars
25+ Locations
Delivery, curbside service, or takeout
Order by Friday, May 9
Showmars offers Southern, fresh, Greek favorites for takeout, curbside pickup, and delivery. Their signature items never fail—gyros, pita burgers, fresh salads, and the World's Best Fish Sandwich will all be good choices for your Mother's Day meal. Schedule your pick-up or delivery via showmars.com, and receive free delivery on orders of $10 or more.
---
Sea Level
129 E 5th St.
Curbside service or takeout
Order by Thursday, May 7
Sea Level is offering a "reheat and eat"-style brunch this year. For $29, you can choose from prime rib or country ham, Belgian waffles or flapjacks, and get the sides Chef's Momma's Breakfast Casserole, a veggie cobb salad, papas bravas, and deviled eggs. In true Sea Level fashion, you can also add on an oyster shucking kit, charcuterie, and desserts. (And don't forget the cocktail kits.)
---
Rare Roots Hospitality (Dressler's/Dogwood Southern Table/The Porter's House/Fin & Fino)
Multiple Locations
Pick-Up
Order by Thursday, May 7
Rare Roots has a brunch package that can be picked up at any of its above restaurants. It feeds four people for $99 and the headliner is your choice of Lobster & Crab Quiche or Crab & Lobster Cakes. Also in there: Corn & Butter Bean Succotash, French Toast Bread Pudding, Garlic & Herb Roasted Potatoes, and Pasta Salad (Cukes, Tomato). We suggest you add-on the famous Dressler's dessert Mom's Cheesecake, which you can read about here.
---
Reid's
Multiple Locations
Pick-Up
Order by Thursday, May 7
The Mother's Day menu at Reid's is also take-and-bake. Items are prices separately, from a dozen Ladyfinger Ham Rolls ($17.99 for a dozen) and Pimento Sausage Rolls ($15.99 for a dozen) to the Beef Tenderloin ($29.99 per pound) and Rack of Lamb ($22.99 per pound). An assortment of sides, soups, biscuits and other items from the "Bake Shop," and wine are also available. Full menu at the link above.