5 Local Parent Entrepreneurs Talk Innovative Ideas
Hear what got them started, and what keeps them going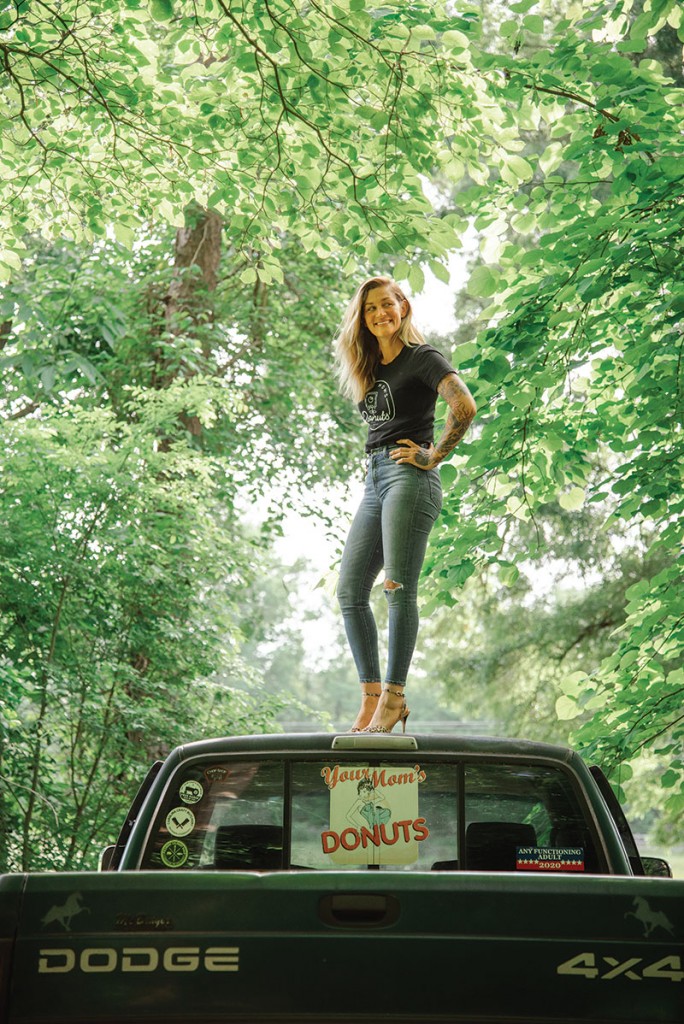 Inspiration, need, a desire for freedom — parents in Charlotte have started their own businesses for a myriad of reasons. Regardless of motivation, we talked with five Charlotte parents that took the risk of entrepreneurship. See what inspires them, how they get the job done and how they are enjoying the rewards with their families.
---
While the business name started as a joke that stuck, Courtney Buckley was serious about what she desired in a day job.
"I wanted to have a business I could raise a family in, as well as connect to the community, and doughnuts felt like the perfect thing," Buckley says.
Buckley, 33, gave up her work as a farmer to own Your Mom's Donuts, a craft doughnut shop that has expanded to two locations: the flagship storefront in Matthews, plus a second storefront at Park Road Shopping Center. The brand is known for fried, gourmet doughy goodness made fresh daily with locally sourced ingredients. Standard flavors include powdered sugar and classic glazed, while special flavors have ranged from Nutella raspberry to matcha hibiscus.
"I used to just go to the market and make flavors off of what we could get," Buckley says. "I now have an incredible employee who does the majority of flavor development."
Buckley's donut flavors are never dull, and neither is her family life, which revolves around her three children: Violet May, 6, Lola Rose, 4, and Bridger Angel, 4, plus her partner Sean Ahern. And there's her "small farm" comprised of horses, dogs, chickens and a cat. Buckley's challenge at the moment is to find balance and "turn off" as a small business owner.
Her approach: "Find your people! I have an incredible au pair that lives with us so I know how happy my kids are when I'm at work. And I have some incredible staff so I know the business is functioning fully when I can't be there."
Her motivation: "It doesn't matter if it were doughnuts or tires, it's the people that keep me coming back."
---
Elle Matchin, owner and head chef at Baked Well, took control of her lifestyle when she opened her Matthews storefront staffed with the small, efficient team that ensures her success.
"I wanted to be able to have the freedom of choosing how the business would run," she says. Matchin, 26, who went to school for hospitality management and has a history of working in bakeries, craved variety — from quality breakfasts to customized celebration cakes — and loves to experiment with what's in season.
When she first started baking cakes on the side, her husband Jordan Matchin helped her come up with the business name. The storefront was the bigger challenge. Taking an empty rectangle and turning it into a full-service bakery. Now that the doors are open at Baked Well on Monroe Road near Matthews, her imaginative approach to baked goods is flourishing. She welcomes customer feedback as inspiration for the bakery menu.
As both a chef and mother to her kids, Elijah, 7, and Margo, 2, confidence is key. "We put out cakes and desserts that we would want to take home to our family. I think people see this and the family environment we create at the bakery, and it keeps them coming back."
Her approach: "Creating boundaries for yourself is so important in order to be sure you are creating healthy habits in [work and family] areas of your life."
For Matchin, that means flexibility (the bakery is open 7 a.m.-3 p.m., Tuesday through Sunday) so that she can be home for dinner, homework and bedtime every night.
Her motivation: "I hope that my children will see that if you are passionate about what you do, it is worth going the extra mile to create a business that reflects who you are."
---
Julie Tassy, owner of Ella B. Candles, wanted to teach her two daughters, Ella, 16, and Harper, 17, a lesson with a new venture: How to develop a product line. That started with naming the business.
"Since the candles are pure soy, and soy is a bean, our Ella said, 'My nickname is Ella Bean!' We shortened the Bean to B., and Ella B. Candles was born," Tassy says.
Tassy, 44, is no stranger to running a business. Before opening the family-run shop featuring hand-poured candles that are now available across the nation, she handled a business that sold personalized gifts.
"Customers were asking for something that they could purchase right away," she says. "Few people had time to wait for something to be embroidered, engraved or personalized."
She launched her candle line, personalizing each fragrance after a Charlotte neighborhood, including Myers Park, Cotswold and Plaza Midwood, plus streets and landmarks in other cities.
At first, she struggled with stretching herself thin, trying to manage the business solo. Now, she works with an amazing team, including her husband Christopher Tassy.
Her approach: "Find the right people, give them a clear vision of the goal, and then give them space to learn and grow." That tactic gives her room to raise her two teens.
"Give yourself space from your work," she says. "Your kids are growing up, and they need you." She and her husband have implemented a no-talking-about-work-at-home policy, which has been a game-changer.
When she is talking about work, Tassy loves creating beauty, from candles to culture to team. She also relishes the chance to dream up scent profiles based on her passion for cooking.
"A good candle fragrance is like a delicious dish," she says. "A unique, sometimes unexpected combination of flavors that evoke an emotion and create an ambience."
---
Adam Jenkins chased corporate career dreams until a layoff changed his direction. The seed for his next step was planted 20 years prior by his late father who had hopes to one day open a spice company. With the job shift, Jenkins decided to improve the nutritional health of his family while growing his father's dream. The family embraced an organic lifestyle.
"While I was able to take the time to hand blend and combine flavorful combinations for my family, I knew it was very time-consuming and expensive for other busy families," he says.
Jenkins, 43, is principal of Flavor Seed, a spice company featuring organic seasonings that can be purchased online or at local retail locations. He works with the support of his wife, Ashley Jenkins, whom he calls vice president and super mom, while raising their children, Adler, 11, and Finn, 8.
Jenkins focuses on flavors he grew up with that were family favorites, plus flavor profiles of his favorite foods. Since overcoming the challenge to achieve organic certification, Flavor Seed's offerings have sprouted to feature six USDA organic seasonings, from traditional barbecue rub to taco seasoning. More spice mixes are in development, with still others in the test lab. Seeds are a major part of the ingredient list that he uses to evoke flavor.
"Before a seed can grow it must first be cultivated, planted in the right environment, given plenty of the proper nutrients, and most importantly, cared for," he says. "Similar to raising kids."
At the root of his success, Jenkins loves what he does. He hopes to turn Flavor Seed into a family legacy while expanding product reach. In the meantime, he's focused on flavors and family.
"You only get 18 years or so to mold your kids into who you want them to become, and you can't get that time back."
---
Rachel Roff knew since high school that she wanted to be an aesthetician who helped people enhance their appearance and self-esteem. She grew up suffering from acne and excess weight, but when she finally joined the industry in Charlotte as an aesthetician, while also working as a part-time waitress, she found a lack of services catering to darker skin tones.
"I wanted to open a medspa that specialized in diverse skin," says Roff, CEO and founder of Urban Skin Solutions Medspa and the Urban Skin Rx line. "From the beginning, my medspa's promise has been that no matter the color of someone's skin, they can trust that we have the knowledge, experience, and equipment to safely and effectively help them."
While she may not have been self-assured as a kid, she's a bold parent entrepreneur. As a single mom to her daughter Rosie, 7, Roff, who is 38, gets the job done at work and at home. She finds inspiration for products and services online and in her everyday life. "I can't frequent any business without being inspired by ideas."
Her approach: "Don't walk into the house after work on your phone. Walk in showing your child that you are eager to see them and be present with them," she says. "My daughter is kind and confident and respectful, so that shows me I'm doing something right."
Her motivation: Her daughter motivates her work and her urge to change the world. "Urban Skin isn't just a skin care line. It was started because of a huge social injustice in an industry I was passionate about."
Katie Toussaint is a Charlotte-based writer, editor and yoga teacher. By day, she writes for Union digital marketing agency. At home, she parents her Great Pyrenees fur baby, Maisie.