5 Keys to Organizing Kids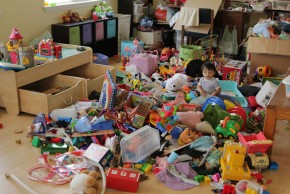 Do you struggle with keeping your home in order? Do your kids have too many things and not enough space to store them? Don't feel alone, lots of parents struggle with the same issues but I've got 5 Keys to Organizing your kids (and their stuff!).
1. Make organization a family affair. It is pretty hard to get your kids to be organized if they see your life in a state of disarray. Make it a daily commitment for each family member to participate in cleaning up and putting their belongings away. It is hard to develop good habits if they are not practiced on a regular basis. Also – it is hard to have a huge mess if you are taking care of the little messes as they occur. 
2. Create  a "Landing Station" near your commonly used entrance whether it be a front door, back door, or garage entrance. Providing a central location for storing bookbags, shoes, coats, and other items that travel in and out of your home with your child helps to keep them, and your home more organized. Whether it is made from store bought shelves and hooks or custom made out of cabinetry, this landing station will go a long way in controlling clutter.
3. Use containers to keep toys organized by type. Label each container so your child knows what is inside. If they can't read, use pictures of the toys so they can recognize what they are looking for. Clear containers that reveal the contents can eliminate the need for labeling at all.
4. Rotate toys on a monthly basis. Take half of your child's toys and box them up and put them in an attic or storage area to limit the number of toys that they have at any given moment. Then on a monthly (or even quarterly) basis, switch them out and the old toys are new again. 
5. Establish a one in- one out policy. Whenever your child gets a new game or toy, engage them with selecting one of their older games or toys to be donated to a child in need or a local hosptial. This will help prevent over accumulation and hopefully instill a giving nature in your child.
Do you have any other tips that work well in keeping your home organized? Please share them with other parents in the comments section below.
Barbara Green is the owner of Sensibly Chic Designs for Life and the host of Ask the Design Diva radio show. She beleives you CAN have it all: kids, pets, and a beautiful home. Visit her at her showroom located at 830 Lamar Avenue in the Plaza Midwood section of Charlotte or give her a call at 704-608-9424.