5 Ideas for Summer Fun at Home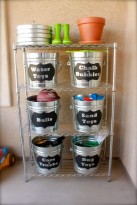 Do you dread the cries of "Mom, I'm bored!" before school has even ended? Plan ahead with these five tips to keep your kids occupied and happy at home this summer. The first idea is to outfit a shelving unit with bins filled with bubbles, balls, jump ropes, chalk and other inexpensive items the kids can play with. Labeling the bins makes it easy for kids to know what they've got and more importantly helps them keep the garage clean and organized for the next time.
Summer is an especially important time to encourage reading so their minds can continue to grow even though they are out of school. Having a special reading spot just for them will make reading even more appealing. This reading bench is so easy to make by stacking cinder blocks and threading 4 x 4 pressure treated lumber through them. Top it with a weatherproof cushion and they are all set for hours of reading enjoyment.
Since kids love to draw, why not make a huge chalkboard for the outdoors? Simply purchase a 2 x 8 sheet of Hardie Backerboard (available at most home improvement centers), and frame it with pressure treated 1 x 4s. Paint the board with chalkboard paint and the frame with exterior paint. FInish by screwing hooks near the bottom to hold sand pails full of chalk.
One of my most fond memories from childhood was running through the sprinkler with my neighborhood friends. To make this a quick and easy activity to set up for your kids, cut a hole in the bottom of a bucket and slip the hole over the water spigot, attaching to the wall with galvanized screws. Slide the sprinkler inside and wrap the hose around it. Now it is ready whenever the kids want some fun and relief from the heat.
Bird watching can be both fun and educational. Recycle an old chandelier or buy one at the Habitat for Humanity ReStore and turn it into a birdfeeder with your kids. Start by removing the fake candles and electrical wires. Glue small bowls where the candles used to using Liquid Nails Adhesive. Once the adhesive dries, paint the entire project using exterior grade spray paint. Hang on a post or in a tree within good view of the house to provide hours of bird watching entertainment for the kids. You might even want to get a field guide to birds and a notebook for the kids to keep track of all the different visitors that come to dine.
Do you have any outdoor ideas to keep the kids occupied this summer? Please share in the comments section below.