5 Great Uses for Chalkboard Paint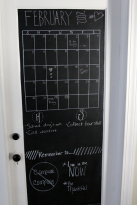 Chalkboard paint just might be a mother's best friend. Back in the day, the only place you saw a chalkboard was in a classroom or restaurant. Now it is easily found at any home store and can be put to use in many practical ways. Here are my Favorite 5:
Bedroom Wall – Kids love to draw, and I don't know of any child that hasn't gotten in trouble for drawing on the wall at least once in his/her lifetime. Why not encourage creativity by painting one wall in the child's bedroom with chalkboard paint. It doesn't have to be black. There is a new formula available that can be tinted any color you desire.
Mudroom Door – If your kids tend to forget things as they run out the door, painting that door with chalkboard paint and using it for reminder notes could be a simple solution to a frustrating problem.
Kitchen wall – A kitchen wall painted with chalkboard paint can become the message center and calendar organizer for the entire family. Create columns or a grid to be able to keep track of appointment schedules so everyone knows whose coming and going and when.
Kitchen Cabinet – Paint the inside of a cabinet door with chalkboard paint and use that to keep track of grocery items as they get depleted. Before you go shopping, simply take a photo of the list with your phone and off you go. No more wasted paper or leaving the shopping list at home.
Study area – In another move to conserve paper, paint a wall near the study area to use for practicing math problems or working out other homework challenges. Sometimes seeing the problem in a bigger format can be helpful in solving it
To create a chalkboard wall in your home, it is a simple 3 step process:
Prime the surface. Use dark gray primer for a dark chalkboard, or white for a light colored chalkboard.
Paint surface using 2 – 3 coats of chalkboard paint, allowing to dry at least 3 hours in between.
Condition the surface by rubbing the side of a piece of chalk all over the entire chalkboard, then wipe with a barely damp sponge.
So which room in your house needs a chalkboard wall? I'd love to know…
Barbara Green believes you CAN have it all: kids, pets, and a beautiful home. She owns Sensibly Chic Designs for Life and hosts Ask the Design Diva radio show and believes you don't have to spend a million dollars to look like you did.