5 Fun Ways to Celebrate Motherhood With Your Friends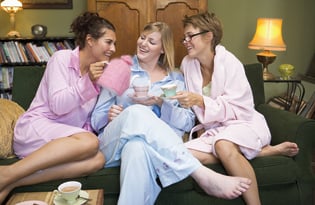 Does Mother's Day start with your kids waking you up with homemade muffins and fresh flowers? Then, throughout the day, are they angels while you enjoy a day free of cooking and chores? We can all dream.
If your reality is a little different, why not add a twist to the month of May. Call up your mom friends and plan a "let's toast each other" gathering. You work hard, you play hard, so go on and celebrate each other. Here are five fun ideas to get the party started.
Girls Lunch
Host a luncheon for your girlfriends. Plan a menu that includes a variety of salads to suit different tastes. Try chicken salad, tuna salad, a colorful lettuce vegetable salad, pasta salad and fruit salad. Offer your guests something sparkling to drink – with and without alcoholic. Be sure to toast each other for all the wonderful things you do as mothers throughout the year. Decorate your home with small flowering plants – then give one to each as a gift. Plan your party when the kids are in school, or plan a lunch date out and leave the kids with dad.
Get Your Spring Style On
Spring is here, so some style updating is in order for you and your friends. Exchange those yoga pants for the latest clothing trends. Check to see if the following lines have reps in your area: Etcetera, CAbi – Carol Anderson by invitation, and host an in-house party. Add a little sparkle to the mix and invite a jewelry rep from Stella and Dot, Silpada or lia sophia.
Stay Up All Night
When was the last time you had a sleepover with your girlfriends? Enlist the dads to watch the kids, and have your friends bring over sleeping bags for a good old-fashioned slumber party. Ask everyone to bring her favorite at-home spa item and have a spa night, or have your friends bring a favorite movie, order some pizza, and girl-talk all night long.
Put On Your Chef's Hat
Embark on a culinary adventure and take a cooking class with your friends. Check out the offerings at your local gourmet shop, department store or grocery store. Pick a menu and get cooking. Then play top chef, and invite your friends and their spouses over so you can show your husbands what you've learned.
Celebrate the Weekend
Remember the fun of TGIF parties from your younger, pre-baby days? It's still a great way to kick off the weekend. Plan an outside party to begin around 5 p.m., when dads are coming home and can watch the kids. Make it a Flamingo Friday, decorate with kitschy pink flamingos and serve pink drinks such as Cosmopolitans. Or celebrate Cinco de Mayo with margaritas and guacamole. If you're in a Southern frame of mind, try a Kentucky Derby theme. Serve mint juleps in your most elegant glasses. Have your guests wear their favorite hat, and you're off to the races.
Lisa Nord Seplak is a freelance writer and mom who enjoys the occasional gathering with her girlfriends.