5 Fun + Easy Ways to Give Back This Summer Thanks to #SummerShareCLT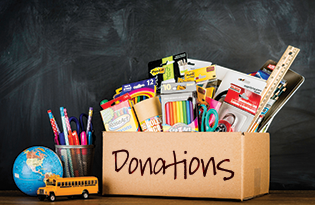 With summer vacation in full swing, many of us are worried about sunscreen, beach towels and a full cooler of snacks and water. Yet, some families in Charlotte do not get a vacation nor are they certain about the next meal or school supplies for the upcoming year.
Beginning July 13 through 26, SHARE Charlotte's summer campaign, #summershareCLT, encourages families and the community to donate goods that nonprofits need to fulfill their missions, such as canned food, school supplies, ballet slippers, swimsuits and more. Participating nonprofits' wish lists are easy to find and shop at summershareCLT.org.
Following are five easy and fun #summershareCLT ideas as suggested by the folks at SHARE Charlotte:
1. Donate Libby's Chunky Fruit Mix with 100 percent juice to Loaves and Fishes to help support families in short-term crisis.
2. Order a book bag and graphing calculator for students supported by Communities in Schools.
3. Charlotte Ballet engages the community through educational performances in local schools and dance programs for children with evidenced financial need. To support their summer activities, Charlotte Ballet needs toddler/little kid ballet shoes and little girls' classic short-sleeve leotard.
4. A champion for children with disabilities, the Allegro Foundation could utilize Learning Resources giant soft numeral cubes to assist with reading, number identification, memory and movement.
5. Paint helps exploration come to life as children learn through play. Charlotte Bilingual Preschool could use paint in its curriculum as it prepares Spanish-speaking children with superior dual-language education.