5 Fall-Friendly Ingredients for Weeknight Dinners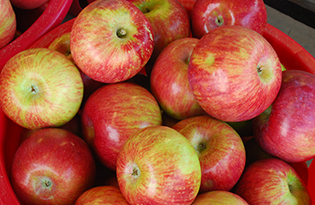 Fall is almost here and some of us might feel like we're falling over ourselves in zucchini. But there are plenty of ways to add flavor and high fiber fall veggies to some of your favorite dishes, and new ones too! When the weather turns cooler these delicious and nutritious dishes will hit the spot. The Cooking Fairy Joanna Wallis, a personal chef in Greenwich, Connecticut, shares five fall-friendly ingredients to add to your weeknight meals.
Zucchini — Consider slicing and dicing, sautéing with garlic and adding to your favorite enchilada or quesadilla filling; it's quite tasty with chicken, black beans, corn and cilantro. Instead of serving cucumber crudites, remove the zucchini seeds, slice into sticks and enjoy with your favorite dip for a yummy after school snack. Or, sauté zucchini rounds with thyme and garlic and then purée for a delicious pasta sauce.
Tomatoes — Of course tomatoes are simply full of flavor at this time of year and you can always enjoy them as they are, bright and juicy in a salad next to a simple piece of grilled fish or even roasted chicken. But why not consider dicing them and sautéing them in olive oil, garlic, onions and adding that zucchini — finish with a little white wine or vegetable stock and you have a perfect sauce/topping for fish, chicken or pasta.
Swiss Chard — Swiss chard is often used in place of spinach — simply blanche and then sauté with a little garlic and fresh herbs. A more creative way to enjoy this is by using the leaves as roll-ups and either filling with traditional sandwich fillings, such as hummus and veggies, or even chicken salad. Make it more of a meal by stuffing with rice — and all those other fall veggies we've mentioned — add a little goat cheese, ricotta or feta, bake in the oven, and you have a great dinner time dish that's healthy and delicious!
Butternut Squash — "One of my favorite ways to use this yummy vegetable is in soup," says Wallis. Great pairings for butternut squash are walnuts, pears, apples, goat cheese, or blue cheese. Consider using these flavors in big fall salads, in risotto or over pasta.
Apples — "There comes a point at the end of October when I feel like I have used apples in every conceivable way. I bake with them, I put them in salads, I sauce them — the list goes on and on," says Wallis. But a classic pairing of pork or chicken with apples and leeks in a simple weeknight dinner is always a crowd pleaser. Pair it with some roasted butternut squash and dinner is done!
Try these yummy fall recipes:
> Chicken Paillards with Leeks and Apples with Butternut Squash Purée
> Butternut Squash Purée