5 Extreme Sports for Kids
A world of alternative sports awaits adventurous children.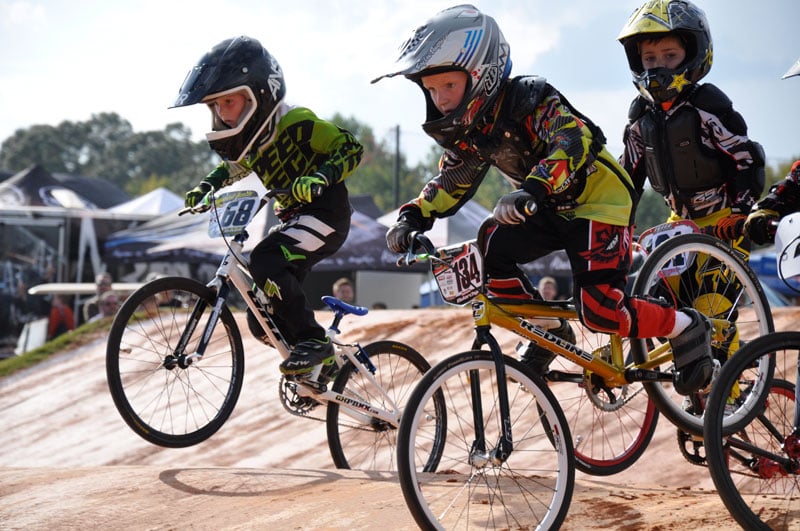 If the young athlete in your life itching to move beyond the baseball field or the basketball court, there's no lack of opportunity to explore athletic pursuits that aren't so traditional. Alternative sports, such as rock climbing, aerial arts, skateboarding and parkour, can provide children a number of physical and mental benefits that can last a lifetime.
"The same benefits that a child receives from any sport they will receive from an alternative sport — it really is just a matter of personality and interest," says Amy Tynan, owner of AerialCLT, an aerial arts gym with locations in Charlotte and Pineville. "The goal is to keep children active and playing."
While the thought of your child swinging from the rafters or biking full speed through bumpy terrain on a bicycle motocross — also know as BMX — course may make you cringe, experts agree that staying educated and informed about the sport can help alleviate some of that anxiety. Like other sports, alternative activities provide children a number of physical and mental benefits that can last a lifetime. If you have a sensation-seeker who prefers something different from the usual team sports, read on to learn about about five alternative sports kids can explore in Charlotte, and how it might be a fit for your child.
---
Aerial Silks
Aerial silks are acrobatics performed while hanging from a suspended fabric which is used to wrap, suspend, swing and spiral the performer's body into various positions. AerialCLT offers aerial silks classes for children ages 8 to 14 years old.
"If the jungle gym is your child's favorite hangout spot, chances are they will really connect with aerial," Tynan says. "If your child is one that gets nervous when in a team environment, then aerial arts would be a great alternative for him or her."
The physical and mental benefits that a child receives from aerial arts are similar to those they would receive from more traditional sports like dance and gymnastics, Tynan says. To get involved in aerial silks, children can register for a semester of classes on the AerialCLT website, or sign up for a 30-minute private lesson to help determine if the sport is a good fit. AerialCLT also allows drop-in visits for the first two weeks of each semester so kids can try a class without commitment.
Like all sports, aerial arts are not without risk of injury, but Tynan says the professional programs are designed to keep students safe. Children practice low to the ground during their first year, and progressively climb higher as they become more experienced. Instructors are within reach at all times and students work over crash pads.
"We are very slow in our teaching progressions and all of our students have to prove competency at a skill before advancing to the next skill," she says.
---
Indoor Rock Climbing
Indoor rock climbing is an increasingly popular form of rock climbing performed on artificial structures designed to mimic real outdoor rock. Grant Lindholm, director of youth programs at Inner Peaks Climbing, a rock climbing gym with two locations in Charlotte (Crown Point on Monroe Road and South Tryon Street in Southend), says indoor rock climbing promotes discipline and problem-solving skills for young children. The sport also requires kids to put trust in one another, which creates a sense of community among participants.
"Rock climbing is like solving a puzzle — it takes time and trial-and-error, and pushes us to stay patient," Lindholm says. "Rock climbing also allows kids to tap into their creativity and come up with their own way of doing things. The rock climbing community is an awesome environment, and it brings people of all backgrounds together."
Lindholm recommends introducing interested youth to rock climbing between the ages of 5 and 7, when children are able use problem-solving skills they've acquired from other activities. Inner Peaks Climbing offers a number of different youth programs including Team Discovery, its most popular program, which introduces rock-climbing fundamentals through activities appropriate for each climber's age and skill level.
"Young kids have a great awareness of their bodies and know the best ways to move themselves," Lindholm says. "Most importantly, I believe that if a kid seems interested in climbing, then that's a good enough reason to go check it out."
---
Parkour
Parkour is the sport of moving from one point in a complex environment to another in the fastest and most efficient way possible — running, jumping and climbing over obstacles along the way. Kids can learn to literally bounce off the walls. The sport was developed from military obstacle course training and is often compared to a noncombative martial art.
Acrofitness in Mooresville offers Pee Wee Parkour, a co-ed class for children ages 4-7; and Princess Parkour, a class for girls ages 4 and older. Marie Severance, owner of Acrofitness, says success in parkour, comes with development of whole-body athleticism to meet the sport's demand for speed, agility, upper- and lower-body strength, flexibility, coordination and timing.
"Parkour is an amazing natural conditioning program," Severance says. "Students will develop skills which allow them to succeed not only in the parkour program, but in other sports as well."
Severance says most kids are a good fit for this "fun" way to get in shape, and Acrofitness welcomes students beginning at age 4, or as soon as they are able to follow specific instructions and are tall enough to scale the smaller mat systems.
There are risks associated with the sport, including injuries ranging from simple abrasions to broken bones. The best way to get involved in parkour is to look for a reputable facility and test the waters with a trial class. Proper training and supervised progression can minimize risks, Severance says.
"The televised 'American Ninja Warrior' competitions have ignited the thrill [of parkour], and anyone with the desire can succeed," Severance says. "We are very passionate about parkour, and its fabulous incentive to get students up and inspired to move Spider-Man style!"
---
Skateboarding
Skateboarding is an alternative sport that has seen a resurgence in popularity over the past several years, with more skate parks opening, more competitions being held and more coverage of the sport on television. In fact, for the first time in history, skateboarding is an event in the 2020 Summer Olympics in Tokyo.
Rob Dunfey, founder of GoSkate Skateboard School, based in San Diego, is excited about skateboarding's "comeback." GoSkate provides youth lessons in more than 1,300 skate facilities nationwide, including Grayson Skate Park in Charlotte. Certified GoSkate instructors help students master the fundamentals of skateboarding through lessons based on a student's capabilities.
"Shakespeare said, 'The world is your oyster,'" Dunfey says. "For skateboarding, the world is your playground."
Children as young as 4 years old can get involved in skateboarding, Dunfey says. As little as $140 can buy the necessary board, helmet, elbow pads, knee pads and wrist guards; and kids can practice in skate parks or on any open stretch of concrete or asphalt, he says.
The most common skateboarding injuries are minor, such as scraped hands and elbows, bruised shins, and sprained ankles. Data shows that three out of every four skateboarding accidents happen in the first week, Dunfey says, and proper safety gear and professional instruction can help minimize the risk of these incidents.
"Thousands of new skaters have taken lessons with GoSkate and fewer than a dozen incidents have been reported since 2009," Dunfey says. "A majority of people jump the gun and start skating without help."
---
Bicycle Motocross
For bike riders looking to up the ante on adventure, bicycle motocross — or BMX — may be the way to go. In this sport, athletes ride special BMX bikes on dirt tracks or other off-road terrain. BMX races and stunt competitions are popular among more experienced riders.
The Novant Health BMX Supercross Track, run by the City of Rock Hill Parks, Recreation and Tourism Department, offers a free new rider orientation each Tuesday from 6-7 p.m. and on most Saturdays from 3-4 p.m. The orientation provides an introduction to BMX with a progressive approach that prepares riders for competition when they are ready. The track also offers additional clinics to support learning skills beyond the initial orientation session, and provides BMX bike and helmet rentals for $10.
Hornets Nest BMX welcomes interested riders to come watch or practice at Hornets Nest Park in northwest Charlotte. For $5, a new rider can join in a practice. Weather permitting, practices happen Tuesday and Thursday evenings, 6-8 p.m. New riders are required to wear pants, long-sleeve shirts, enclosed shoes and a helmet, and almost any bike can be outfitted for BMX.
The program in Rock Hill has participants as young as age 5 and allows "striders" (kids on bikes without pedals) to try the track. Once they master pedaling, they can begin racing.
"BMX is an all-ages sport. Starting young helps riders develop balance, strength and bike handling skills," says Laurie Helms, marketing coordinator for the City of Rock Hill Parks, Recreation and Tourism Department. "Kids who take on adventure sports may be more likely to live an active lifestyle as adults, which can bring a number of health benefits, and can also lead to increased self-confidence."
Emily Schappacher is writer, wife and mom who is soon to dive into swim lessons with her 2-year-old son.