5 Easy Ways to Show Off Your Kids' Art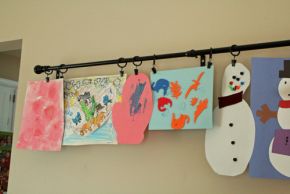 Just imagine…your child could be the next Michaelangelo or Monet or maybe Kahlo or Kandinsky. If the creative juices are flowing freely in your home you are probably wondering what to do with all of your child's artwork. Those creations deserve more than a mere magnet on the refrigerator! Show them the pride you have in their artistic abilities and use one of these 5 methods for displaying their artwork:
Install a picture ledge – These ledges can be found in any big box store and can be hung in groups (I like three together). Insert your child's artwork into frames of different sizes and rest them on the ledge. You can easily change out the artwork when new pieces are created and overlap frames of different heights. 
Ribbon or string & clothespins – This is so easy and so effective. Determine how long you want the disply to be and anchor two screws into the wall at the height and length you desire. Tie a ribbon or string between the two screws and attach the artwork with clothespins.
Curtain rod & rings – Hang a curtain rod with plenty of rings. Make sure you use the rings with clips attached. Once everything is installed you can hang the artwork using the clips on the rings.
Clipboards – This is great if you have a large area of wallspace you'd like to cover. Plan out a grid (4×4, 3×5, 5×8…whatever) and buy the number of clipboards needed to create the grid  (I buy mine at the dollar store). You can spray paint them to coordinate with your decor if desired. Hang them on the wall in the predetermined grid pattern and your gallery is ready.
Clip Strips – This is a DIY project for anyone who can handle a screwdriver. You will need: a 1″x4″ piece of wood in whatever length you desire, 1 bulldog clip (available at office supply stores) for every 12 inches of board length, spray paint, screws, 2 flip tops from soda cans, and hot glue. First, spray paint the wood, then screw one bulldog clip every 12 inches on the front of the board. Attach a flip top at each end of the back of the strip using hot glue. These are used for hanging the clip strip on the wall.
You can select one or more of these methods to showcase your child's artwork. Encourage it and enjoy it, because before you know it they will be grown and you will miss it. I know I do!
Barbara Green believes you can have it all: kids, pets and a beautiful home. She is the owner of Sensibly Chic Designs for Life and the host of Ask the Design Diva radio show, and insists you don't have to spend a million dollars to look like you did.