5 Easy Organizers for Your Kids' Playroom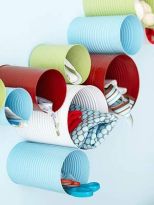 Is keeping your kids' playroom organized a never-ending battle? If you are hungry for some storage solutions, simply head over to your kitchen. I've got 5 easy organizers that you've already got in your home (or recycling bin).
Aluminum cans – Clean empty food cans thoroughly and then spray paint them inside and out with fun colors to coordinate with the playroom decor. Use a hammer and nail to put a hole in the bottom of the can so you can insert a screw and attach the cans to a wall for storage. Use them to store rolled up coloring books, crayons, scissors, or anything else you can fit inside.
Cupcake tins – These compartments are the perfect size for keeping small craft or homework supplies like erasers, rubber bands, paper clips, etc. neatly organized.
Pringles containers – Wrap empty Pringles containers with decorative paper and use them to store puzzle pieces or other toys with small parts.
Milk jugs – Cut an opening in an empty, clean milk jug (as shown) to neatly store pencils, crayons, and markers within reach.
Hanging baskets – Give your hanging vegetable basket a new life buy using it to keep stuffed animals, action figures, and dolls off the playroom floor.
Do you have any other storage tricks that you use to keep your playroom organized? I'd love to hear them!
Barbara Green believes you CAN have it all: kids, pets, and a beautiful home! She is the owner of Sensibly Chic Designs for Life and host of Ask the Design Diva radio show and insists you don't have to spend a million dollars to look like you did!