5 Cool Outdoor Father/Son Activities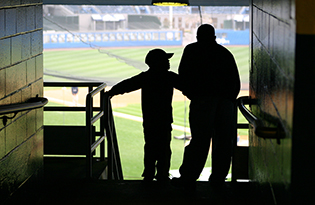 Check out these easy and fun adventures that both of you can enjoy on Father's Day.
Grill Together 
Your preteen boy might not want to bake quiche in the kitchen, but what kid could resist learning how to cook over an open flame? Teach him to prep and spice the meat and top it off with your secret sauce!
Go Fly a Kite 
Choose the right type of kite and then head out to the park or the beach for some big time flying fun. Watch the weather for an optimal experience.
Build a Birdhouse 
A mini construction project can demonstrate the value of planning, attention to detail and teamwork. For older boys, Lowes and Home Depot offer weekend building workshops.
Attend a Minor League Baseball Game 
Baseball is the quintessential summer sport and cheering on the home team together is a great bonding experience. The new Charlotte Knights stadium makes it even more exciting to attend a game.
Play Paintball, Outdoor Laser Tag or Nerf Wars 
Find an outdoor venue, suit up and get ready for a little friendly competition.
Read More: 


Fun Father's Day Ideas