5 Books Celebrating Self-Worth and Love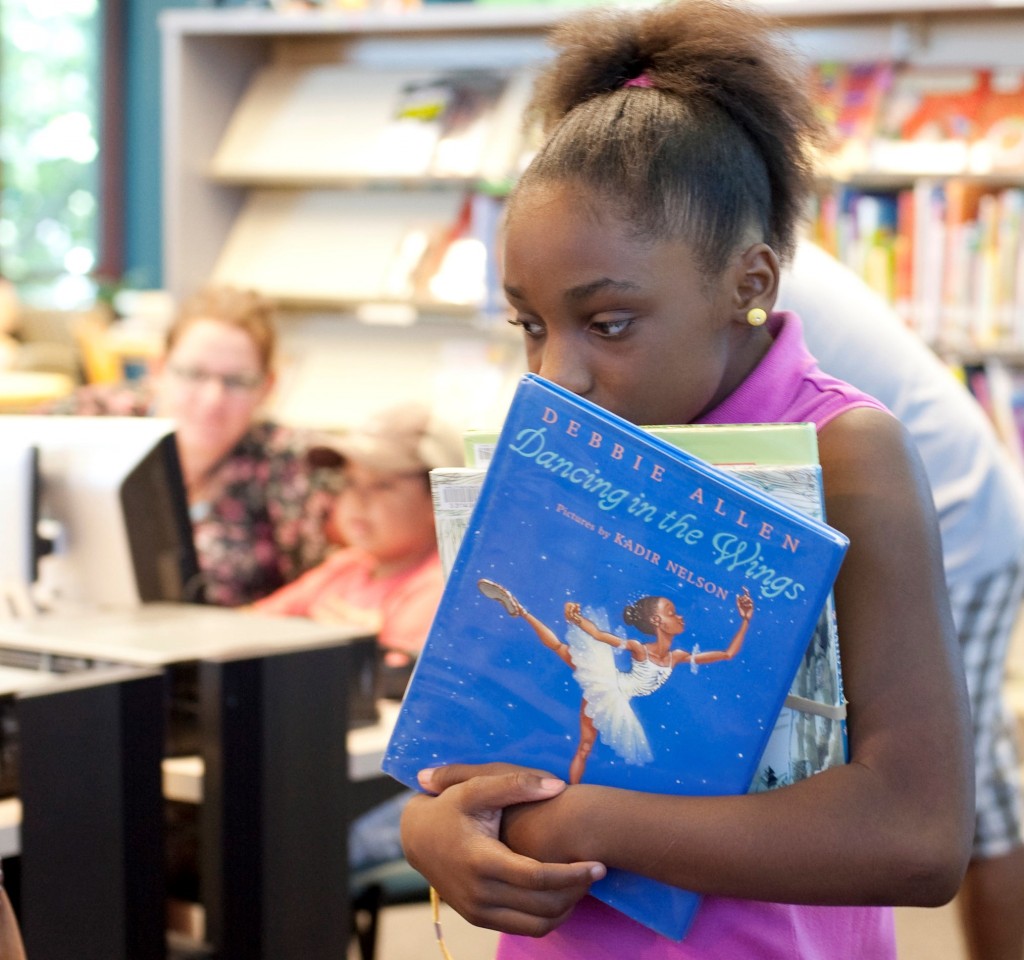 In February, many celebrate love with Valentine's Day, but it's also important to celebrate the love we have for ourselves. A lot is going on in the world today and we often forget how special we are as individuals; everyone is unique in their own way. There are a variety of books parents and caregivers can share with children or read as a family to explore the side of love that focuses on self. Below, the Charlotte Mecklenburg Library has composed a list of children's books suitable for children aged three and older.
Spread the love with the following titles:

The Proudest Blue: A Story of Hijab and Family by Ibtihaj Muhammad is a newer story about little Faizah and her feelings on her big sister's first day of wearing a hijab at school. Faizah is in awe at the beautiful blue hijab Asiya, her sister, wears, but is confused and upset when other students make fun of her. This is a great story about changes, but also about being proud of yourself and culture.
In our second book, Giraffes Can't Dance, we follow Gerald, a clumsy giraffe, as he learns to accept himself and his unconventional dance moves. All the animals of the jungle make fun of Gerald until he meets a cricket that teaches him to dance to his own music. Then, Gerald is the talk of the jungle. This book celebrates individuality and that you should be embarrassed if you don't do something the way others do.
Mr. Tiger Goes Wild is another favorite story about an animal learning to accept himself for who he is on the inside. Mr. Tiger is tired of being prim and proper; he wants to have fun in the jungle and go wild. This is a wonderfully wild read about shedding your fancy pants and being yourself.
Amy Krouse Rosenthal brings us the book Exclamation Mark, about a punctuation mark that doesn't fit in with others. When he is feeling down, a friend shows him how being different is refreshing and accepting others is important because nobody is the same.
For Sesame Street fans of all ages, Random House Publishing brings Love the Fur You're In: Monster Wit and Wisdom with Art. Each page of this delightful read is from 50 years of different Sesame Street books; each page has a positive meaning for families of all ages. Not only does it have a rich message, but all our favorite characters are present.

Some other favorites worth sharing include: The Paper Bag Princess, Stand Tall, Molly Lou Melon, Chrysanthemum, Spoon, Leo the Late Bloomer and I'm Gonna Like Me.
Be sure to check out your local Library branch and ask staff for more recommendations.