5 Bedroom Ideas for a Restful Night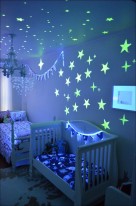 We're all familiar with the saying "If Mama ain't happy, ain't nobody happy," but there should be another equally important quote "If kids don't sleep, parents don't sleep, either." It is so important for children to sleep well in their own room each night because if they don't, everyone in the house will be tired and cranky, and no one has time for that! Here are 5 ideas that you can use in your child's room to help them settle down at the end of a busy day and get some much needed rest in their own bedroom at night: 
Wall Color – Paint the walls in your child's bedrooms soft, muted shades of their favorite colors. Pale gray, soft blue, and muted greens are versatile and gender neutral. Save the bold paint colors for an active space like a playroom. You can add accents of a bold color with accessories.
Ceiling decor – Give your child something interesting to look at while laying in bed. A simple option is a glow in the dark star constellation that can be glued to the ceiling. A more complicated option is wallpaper or a decrative paint treatment. 
Comfy Bedding – Cover the mattress with a puffy mattress pad or featherbed, then top with soft cotton sheets and a duvet cover. In the warmer months the duvet cover can be used alone as a lightweight coverlet and in the cooler months it can be filled with a warm comforter. 
Clear the clutter – The mind can't settle and get rest if it is surrounded by clutter. If there are too many things cluttering your child's room use it as a teachable moment and help them see how much more these excess items would mean to a child who was less fortunate.
Hide the toys – Keep toys stored away in the closet or in covered bins so the toys will be out of sight and out of mind. Young children don't have the wisdom to see fun toys and understand that this is not the right time to be playing. They need to focus on settling down and sleeping. 
Following these simple tips will help get your child acclimated to slowing down and getting a good night's rest which will lead to a very happy family life. Let me know how these suggestions work out for you and please share any other ideas you might have in the comments section below!
Barbara Green is the owner of Sensibly Chic Designs for Life and the host of Ask the Design Diva radio show. She believes you CAN have it all: kids, pets, and a beautiful home. Visit her showroom located at
830 Lamar Avenue or give her a call at 704-608-9424.