5 Ways You Can Support Charlotte Businesses Amid COVID-19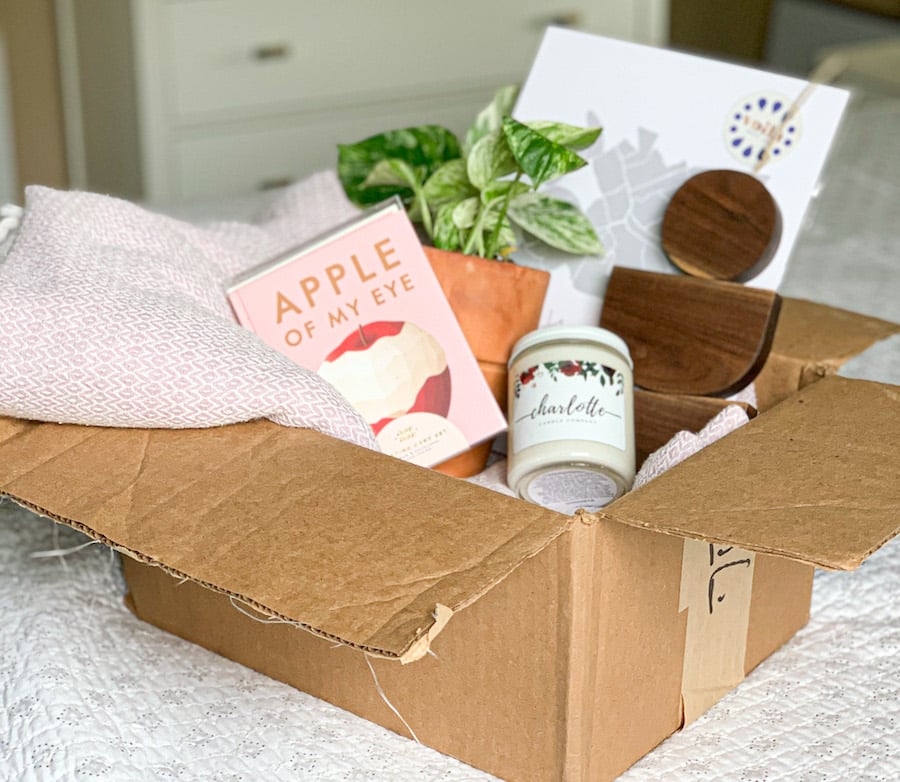 Looking for ways to help keep the Charlotte economy afloat? Local businesses are getting creative with ways to support.
It's easy to get swept up in the anxiety, sadness, and uncertainty of a pandemic—especially when we see our community hurting firsthand.
Much of what makes Charlotte so special are our neighbors, friends, and family who own the various small businesses making up this city's unique and ever-growing cultural framework.
On March 17, 2020, Governor Roy Cooper issued an order to close restaurants and bars for dine-in customers (but take-out and delivery options are still allowed). Because it seems new information comes out every few hours, Charlotte Center City Partners has been vigilant in curating up-to-date information about Uptown and South End including:
Small business resources
Ways to support neighborhood businesses
Ways to support the community
Health and safety updates
From restaurants to event companies to bodegas, boutiques, and more, Charlotte business owners need community support during COVID-19 more than ever. Social distancing calls for self-isolation, essentially, which means we're not visiting our favorite places and our neighbors are losing their jobs, livelihoods, and hope.
But now is not the time to give in to the feeling of helplessness. You can help.
In true Charlotte fashion, area business owners have banded together to create a myriad of ways to support local without risking anybody's health. Here's how you can help from home—whether you have money to spare or just a thoroughly-washed helping hand to give.
5 Ways to Support Local Businesses Virtually
1. Buy a Market in a Box
Cost: $30-$100
Market in a Box is the brainchild of Jordan Dollard, owner of local retail experience company Esther & Elsa.
"We are launching Market in a Box in hopes of continuing to bring income to as many Front Porch Sunday community businesses as we can, " Dollard says. "We've had so many people reach out in hopes of helping our community, and this is one of the ways we can extend that support."
These curated boxes are themed to alleviate many of the challenges and new realities Charlotteans are facing during this social-distancing era. The boxes ($30-$100 each) feature local products from Front Porch Sundays Businesses old and new, and they will be available for free pick-up, free delivery within certain zip codes, or for a $5 shipping charge.
All products inside each box come from a maker or retailer in the Charlotte region, so far totaling over 20 local retailers.
Market in a Box options include multiple sizes of the below, with slight product variances depending on availability:
Click here to shop all the Market in a Box options.
2. Attend a Virtual Concert
Cost: Free, tips appreciated
Music Everywhere is an initiative that was created before COVID-19 was in our vocabularies.
The goal of Music Everywhere CLT is to provide an outlet for musicians, provide an easy way for audiences to support the local music community, and show the diversity and strength of the Charlotte music scene and community. Music Everywhere is using the power of music to bring Charlotteans together during the corona crisis while extending a liferaft to local arts. They are hosting multiple virtual concerts during the stay-at-home order featuring talented area musicians.
Admission is free, but you're welcome to contribute what you can to the virtual tip jar. All funds collected go directly to the artists, and all kinds of musicians are welcome to participate (more on that below).
Click here for more details on when and where to tune in and jam out.
How to participate in Music Everywhere CLT as an artist:
Make a Facebook event for your show (even if you aren't using Facebook to stream)
Make @MusicEverywhereCLT a co-host.
Be sure to include your Venmo name or Paypal.me link (virtual tip jar) in your event and on the stream.
Include a link to your merch store.
Use hashtag #MusicAnywhereCLT and tag Music Everywhere CLT in all your social posts:
Want to help the program grow? Consider adding the logo to your Facebook event or IG post images. Click below for logo color options:
3. Shop deals on SupportLocalOrElse.com
Cost: Varies
Support Local Or Else (SLOE) was created by Black Wednesday Owner Corri Smith and Hygge Coworking Owner Garrett Tichy.
This website is actively collecting Charlotte businesses that are feeling the extreme financial impacts of the pandemic and offering daily promotions and deals for you to shop.
Click here to shop now. If you're a business owner, you can submit your business as well.
4. Show Off Your Social Distancing on Social Media
Cost: Free
Click desired graphics to download full sizes for Instagram Stories
Remember going places?
Honor your Charlotte favorites safely on social media and help support them without having to open your wallet.
The above Instagram Story templates are a subtle yet effective way to communicate the importance and solidarity of social distancing while providing a fun way to pass the time. Simply click the images to pull up full-size versions ready for social sharing.
5. Keep Your Gym Membership
Cost: Varies
https://www.instagram.com/p/B-uMXQrJlu8/
Many gyms in Uptown and South End are going virtual so that their members can stay fit and safe during the Coronavirus.
"Many people have asked how they can support us," Sweatnet Co-Owner Erin Garber said in an email to members in early April. "The best way is to keep our studios strong. Buy class packs from your faves. We are nothing without them."
If you can, keep your gym membership and get your endorphin fix from the facilities that are pivoting to online training and group fitness classes.
Don't forget retail, too.
"If you want to buy a t-shirt from our shop," Garber continued in her email, "that goes a long way for us."
Uptown and South End gyms going virtual:
---
For more resources for small businesses, ways to support your community, and local health and safety updates, visit these websites: