4 Ways to Wear Floral This Spring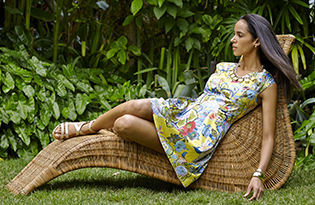 As a lover of all things colorful and all things bright, one trend I never tire of is the use of floral prints in fashion. Spring is like waking up from a long cozy nap. Everything is refreshing, cheery and bright.
This spring season, floral prints are blooming in perfect fashion. From microprints to jewel-encrusted dresses to large scale painted-on designs, this spring season shows no shortage of flower power masterfully arranged on all things wearable from head to toe. Here, I share a few thoughts in support of all things floral with my favorite floral-inspired frocks.
Floral pattern mixing
Nothing could be more fun than a color pattern flower explosion, but it can be risky if you're not sure what you're doing. Stay in the same color family, and don't be too matchy-matchy. It's OK to mix the same style of patterns in your outfit, but only if you choose different scales of the pattern. Mixing pattern styles is perfectly acceptable, but you don't want them to compete. The safest bet is to keep your outfit to two patterns max.
How to accessorize
Your outfit will likely be dominated by color and pattern stemming from the floral patterns. I always say that a dose of tension in any outfit is what creates an interesting look. You don't want to go overboard, however. When it comes to polishing off your outfit, keep your accessories to a minimum. Simple shoes reflecting your print's color scheme, a structured bag, a few bangles and studs or chandelier earrings are what this outfit needs to perfectly arrange your style bouquet. Locally made Geoflora extra small powdercoated studs, $55, Geoflora at etsy.com.
Not just for the girls
Flowers are girly, yes, but they don't have to translate that way onto clothing. A lot of the florals seen on the spring/summer runway were in the form of structured and tailored silhouettes. Pair your flirty floral top with leather shorts or an A-line skirt. Who knew femininity and androgyny were such and perfect pair?
Photo by Zach Alston at zachalstonphotography.com.
Head to toe
From earrings to shoes and everything in between, this spring you will find something of everything fashioned in florals. Perhaps the most distinctive is a pair of flower patterned pumps, but it's rather easy to style. Just pair your colorful shoes with your outfit, building around the colors in your shoe. In terms of flowers in jewelry, chandelier style earrings and petal studs are both hot for spring. ASOS, J. Crew and Net-A-Porter are a few of my favorite on-line shopping sites for great jewelry. Carolyne floral-print high-heel halter pump by Manolo Blahnik, $685, available at Neiman Marcus.
Read More: 


More Style Advice from Whitley