4 Unique Valentine's Day Gifts for Your Spouse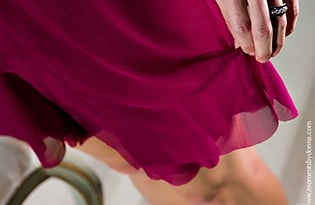 There is a lot of pomp and circumstance that goes into the date Feb. 14, all in the name of St. Valentine. If Valentine's Day is about showing love, are the flowers, cards and chocolates obligatory tokens of affection, or is the 14th of February a cleverly contrived reminder for us to show our spouse our love?
In the spirit of this masterfully acknowledged Hallmark holiday, if your spouse's love language is that of receiving gifts, I propose a few unique considerations from the style corner.
Find your sexy.
Men appreciate the smallest of efforts when it comes to their woman sharing her sexuality. If you want to surprise your man with the gift of lingerie, it doesn't have to be pin-up girl with the all-out look of garter belt and high heels. There is plenty of everyday wearable lingerie out there. If you feel sexy, that's what your guy picks up on, so just go with whatever makes you feel pretty.
Supermodel for a day.
An extension of finding your sexy, boudoir photo shoots are an increasingly popular and more intimate way to show your man your sexy side. Again, the photos and the clothes you wear are best when they reflect your true personal style. Keep it simple with an editorial-type photo in your favorite jeans and T-shirt, or go all-out burlesque pin-up style. Check out JMT Photography, located in NoDa, for details on its Supermodel for a Day photo shoots.
Show love.
My every day necklace is a sweet thin gold shaped heart, the Mini Babylove Necklace from by boe. On its own, it's just the right amount of something to top off a chic minimalist look, but it's also lovely when layered with other personal pieces. Check out the entire by boe line for a bevy of versatile modern pieces.
byeboe.com
Give him some Man Cave.
Looking for a refreshing gift for your man? Check out Man Cave's entire line of male grooming products. The Man Cave recipe can be summarized with a start of natural active ingredients, followed up with 12 essential oils. And each product is completed with a signature key ingredient ranging from caffeine, shea butter, borage oil or cedar wood. Sound fancy? Yea, I thought so. This one's been tried and tested on my husband, and I am totally digging the entire line's intoxicating clean scent.
mancaveinc.com

Whitley Adkins Hamlin is a local stylist and mom to two boys under age 5. Read her Mother of Style blog.