4 Tips for Shopping on a Time Crunch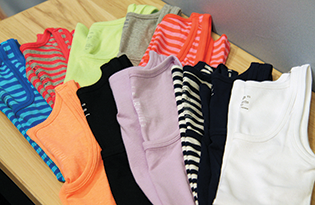 Regardless of whether you're a stay-at-home mom or work outside of the home, we all know shopping with children can be challenging. Carson Tate, one of Charlotte's leading time-management experts and a managing partner at Working Simply, shares the tips below for finding more time to shop.
[1] Be clear and decisive. Make a list. Know your clothing needs from season to season, then be deliberate in your shopping. Think about the stores you frequent, and get to know a person there who can call and let you know what's on sale. Many stores staff personal shoppers for that reason.
[2] Buy it now. When time is of the essence, you can never seem to find what you need. We have all been there. You have nothing to wear for that special occasion, so you frantically rush to the mall searching for any dress that will halfway do. Instead, when you see a dress you absolutely love, buy it then. You will get the greatest return on investment in a dress you love and actually wear.
(Right) Black-and-white halter dress by Vince Camuto, at Belk, $178.
[3] Get to know the kid-friendly stores. As an avid runner and mom of two boys, I am grateful for Run For Your Life's play area for children. All Tory Burch boutiques provide iPads with games for children in addition to juice boxes and bracelets for good little girls.
[4] Know what brands work for you. There is no need to spend precious time hunting. Know your body type and shape, and shop the brands that you know work for you. If you know Gap makes the perfect ribbed tank, buy it in multiple colors.
(Above) Gap ribbed tanks at Gap Southpark, $16.95 each.
Whitley Adkins Hamlin keeps it stylish as a mom with two children under 4. Read her blog at CharlotteParent.com/blogs.