4 Tips for Quick and Convenient Healthy Eating During the Holidays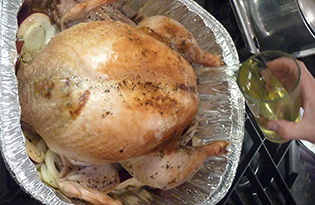 For many people, the holidays involve indulging in buffet tables loaded with lots of fattening, processed foods and sugary sweets.
Shelley Alexander, holistic chef, certified healing foods specialist and author of "Deliciously Holistic," aharmonyhealing.com offers four tips for quick and convenient healthy eating during the holidays.
1. When shopping, check labels and avoid foods with a long list of ingredients. The best whole foods have one or just a few unprocessed or minimally processed, easily recognized ingredients, Alexander says. Among ingredients to avoid: chemicals, artificial sweeteners, high fructose corn syrup, nitrates, MSG, genetically modified ingredients and preservatives (indicated by the initials BHT, BHA, EDTA and THBQ.)
2. Set aside a few hours each week to prep foods to eat in the days ahead. Cut up produce and store it in airtight containers. Lightly wash produce before using with natural vegetable wash or use one part white vinegar to three parts water. Make several homemade vinaigrettes or dressings to last all week so you can make leafy greens and vegetable salads in minutes. Clean and marinate enough meat or poultry for dinners over the next few days.
3. Start your day with a green smoothie. Cut and freeze organic fresh fruit to use in green smoothies. You can also buy frozen fruit that's already cut up. Add organic kale or spinach, coconut water or nut and seed milks plus natural sweeteners such as dates or stevia for an energy-boosting beverage.
4. For your holiday dinners, plan on making at least three to four dishes that are both delicious and nutritious. Good examples are pasture-raised, wild turkey with sage and garlic, baked wild salmon with lemon and herbs, steamed greens, roasted heirloom root vegetables drizzled with balsamic glaze, pureed winter squash soups, and desserts made with seasonal fruits, spices, and healthy sweeteners like coconut sugar or raw honey.
"Stick to whole, healthy foods this holiday season, and you'll feel so good, you won't want to go near the buffet table at your office party," Alexander says.
Shelley Alexander is a holistic chef, certified healing foods specialist, cookbook author, and owner of the holistic health company, A Harmony Healing, in Los Angeles.