4 Tips for Kissable Lips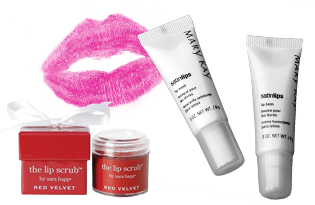 Pucker Up!
Has the dry winter air turned your soft, kissable lips into something that resembles sandpaper? Be ready for Valentine's Day with these quick lip tips.
1. Exfoliate
It's not just for the rest of your face. Once or twice a week, gently rub the surface of your lips with a lip scrub and wipe it away with just a tissue. The exfoliate will smooth your lips and the oil left behind will moisturize while you sleep.

Try Sara Happ Lip Scrub, which comes in a multitude of scents. $24/1 ounce at nordstrom.com or amazon.com.
Mary Kay offers a Satin Lips product line. ($10/set, Mary Kay).
For a budget-friendly alternative, grab a bottle of jojoba oil and mix in a little white or brown sugar. $8/4 ounces at walgreens.com or Whole Foods.
2. Hydrate 
Water, water, water! Drinking plenty of fluids (think water, not coffees and sodas) keeps your skin and lips hydrated, easing the chapped look.

3. (Barely) Color
Runway models are going extreme with eye makeup this winter but are keeping their lips tame. Your best bet for lip color is a pale, nude pink. Consider a lightly tinted gloss, which can moisturize and make you feel a little more done-up as you dash out the door.
4. Protect
Look for a lip gloss, balm or color with at least SPF 15. It's cold outside, but those UV rays are still damaging. Protect your lips as you would your baby's delicate skin – and remember to apply often.