4 Style Tips for Working Moms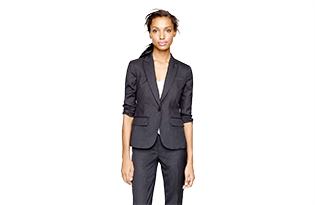 Whether you work as a stay-at-home mom or outside the home, mamas are always working. This article is dedicated to the mama who heads for the office during the week and how to have clothes that fit for mom and career.
1. Own a good suit
It's important to invest in a quality suit. My favorite modern day go-to is J. Crew. They offer a variety of options including trousers, skirts, jackets and dresses. These days, most department stores and better brands offer free alterations. A low-budget alternative is to shop any number of our high-end consignment stores in Charlotte. Take a well-made garment to your seamstress to have it custom tailored. J.T Posh, summerbird and Sweet Repeats are great options.


Single button jacket in Italian Stretch Wool, Jcrew.
2. Bless your soles
If you work uptown, there is nothing unfashionable about wearing your sneakers for the morning commute then changing into your stylish shoes when you get to the office. Better yet, invest in a pair of comfortable flats. I have put many clients in the Italian-made Attilio Giusti Leombruni shoes available at Nordstrom.

Attilio Giusti Leombruni flat, $298, at Nordstrom.
RELATED: Join hundreds of working moms at our annual Moms@Work Conference
3. Find the right top
If you've ever picked up your child in your work clothes, it's not easy to move in starchy corporate attire. Avoid inadvertently showing the world what you mean to otherwise keep hidden by wearing smooth-fitting pullover tops. Carry along a cardigan or blazer to polish your look.


Top with Women's Ludlow Blazer, JCrew
4. Accessorize
Last but not least, accessorizing is where you get to really show your personal style. A silk scarf can do so much. Wrap it over your shoulders, tie it on a bag, wrap it around your crown in damp weather. Carry a bag that reflects your personality, and top off your look with some great bangles, earrings or necklaces.

J.Crew Accessories, $17.50- $128
Whitley Adkins Hamlin is a local stylist and mom of two boys under age 5 who lives in Charlotte. Read her Mother of Style blog at CharlotteParent.com/blogs.