4 Lighthouses of the Carolinas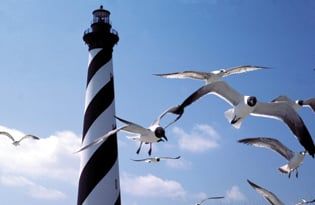 Beach vacations are comprised of distinct experiences: the cry of gulls, sand between your toes, the pounding surf, the smell of salt water and even the hearty "Arrgh!" of kids playing pirate. And of course, there's the made-for-storybooks vision of a lighthouse rising up from the rocky shore.
If you're heading to the beach this year, consider adding an up-close encounter with one of North and South Carolina's many lighthouses. Although some aren't open for the public to enter, there's often a nearby visitor center or museum that will readily welcome your family to learn about these guardians of the coast.
The benefits of climbing a lighthouse are well worth it. The view from the top can be amazing – you can see up and down the coast and far out over the Atlantic. And you can get an up-close view of the way the lighthouse works and imagine life as a lighthouse keeper, as far back as the 1800s. It's an incredible perspective of the beach you've probably never seen before.
Of course, before you make plans to climb any lighthouse, consider the ages and stamina of your family. Naturally, there aren't any elevators to the top! You'll be climbing many flights of stairs. And in most lighthouses, you won't be allowed to carry any tired kids (or spouses!). That's because you'll be required to keep your hands free to use the handrails for safety reasons. You'll also need to leave any bulky items (like backpacks or tripods) outside, too – again, to keep your hands free.
Even if you just came from the beach, shoes are required and those beach favorites, flip-flops, are frowned upon. And you'll want to hang onto your hat, because it can get pretty windy at the top.
Some lighthouses have height restrictions to prevent small children from attempting the climb. We've noted them below under individual lighthouses, but you might want to call ahead to be sure and avoid any disappointment on arrival.
Keep in mind it's a strenuous climb! Some of the lighthouses can be like climbing around 12 floors in a building. It can also be hot, noisy and a little dim inside the lighthouse. You know best if you think your child can handle the experience.
Ready for the adventure? Here are some of the family-friendly lighthouses of North and South Carolina.
CAPE HATTERAS, Buxton
At just under 200 feet, this iconic lighthouse is the tallest in America. In 1999, the lighthouse was moved more than 2,800 feet to its current location because of erosion fears at its previous site. You can still see the old spot where Hatteras watched over the shoals.
Kids must be at least 42 inches tall to climb Hatteras, but there is a visitor center and gift shop at the lighthouse, so those who aren't climbing can look around while they're waiting for the rest of the party. You can also access the beach from the parking lot for a little surf and sand fun afterward.
$7 for adults, $3.50 for children (12 and under)
Take NC 12 South from Nags Head about 50 miles to Buxton.
nps.gov/caha
BODIE ISLAND LIGHTHOUSE, Bodie Island
Pronounced "body," Bodie Island Lighthouse is not open for visitors to climb. There is plenty of room to picnic around the lighthouse, though, and nearby hiking trails. You're also welcome to go in the keepers building. Inside, there are restrooms, a gift shop and a small museum.
After you've visited Bodie Island, you can check out nearby Currituck Lighthouse (Page 31), or the massive sand dunes at Jockey's Ridge, a definite "don't miss" when you're on the Outer Banks with kids.
Free
Directions: Take NC 12 South from Nags Head about 10 miles to Bodie Island. Look for Bodie Island Lighthouse Road sign to right off NC12.
nps.gov/caha
CURRITUCK LIGHTHOUSE, Corolla
After each flight of steps at Currituck Lighthouse, you can take a break on the landing and check out some of the exhibits that talk about the lighthouse. After you catch your breath, you can continue your journey to the top. The climb, like other lighthouses, is well worth it. From Currituck, you can see the sound and the ocean, an amazing view. Kids ages 13-18 can climb the 214 steps alone, but you'll need to sign a waiver for them. Something to keep in mind: Currituck's stairs are iron and see-through, not solid.
$7 to climb the lighthouse (8 and under are free)
Take NC 12 north through Duck to the lighthouse in Corolla.
currituckbeachlight.com
HUNTING ISLAND, Hunting Island, S.C.
Down at the southern tip of South Carolina is Hunting Island Park, home to the only lighthouse in the state that's open to the public to climb. After hiking up the 167-step spiral staircase, you'll get an amazing view of the ocean and surrounding marshes. At the park, you'll also be able to check out the nature center, visitor's center and the fishing pier.
$2 to climb the lighthouse; $5 fee per person (adult) to enter the park ($3 for kids ages 6-15, ages 5 and under are free)
From I-95 South, take Exit 33 (Point South). Follow signs for Beaufort and US Highway 21. Stay on Highway 21 to Hunting Island State Park.
huntingisland.com
Kathleen M. Reilly is a Triangle-area freelance writer and mother.