4 Fantastic Fractured Fairy Tales
Any fan of a funny tale is destined to get a kick out of fractured fairy tales.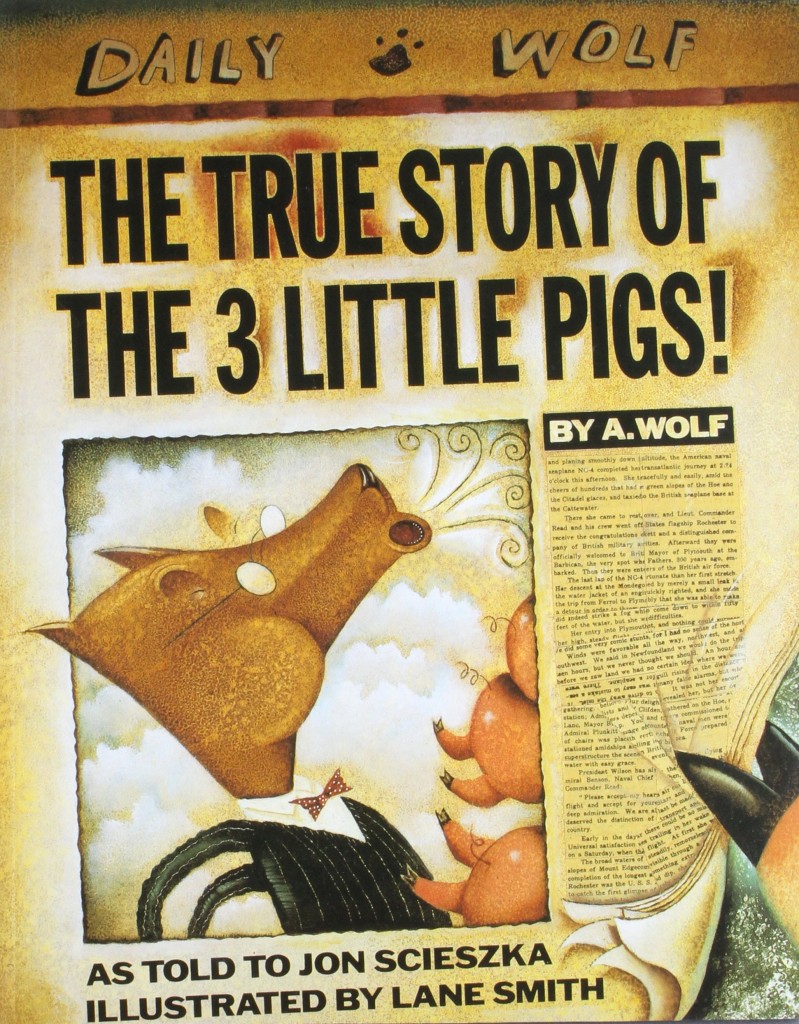 If you're looking for a glass slipper or a kissy-kissy ending, move right along. A fractured fairy tale is a modified take on a traditional folk or fairy tale that bend the plot or its characters in unexpected ways specifically designed to get a giggle or guffaw out of its readers. Brought to public light back in the 1960s television show "Rocky and Bullwinkle," they have continued to enjoy immense popularity among children and adults alike. Here are a handful of the goofiest to get you started.
1. The True Story of the Three Little Pigs! By A. Wolf, as told to Jon Scieszka, illustrated by Lane Smith. The poor, poor wolf has gotten a completely unfair reputation over the years. He's not big and bad at all! He only huffed and puffed because he had a terrible cold and kept sneezing! It's the mean old pigs that were the real bad guys. This tale, with its disturbing and delightful illustrations, is a chuckle a page with a truly terrific surprise ending.
2. Goatilocks and the Three Bears by Erica Perl, illustrated adorably by Arthur Howard. What happens when you replace Goldilocks with a hungry goat, you ask? Well, not only does she eat baby bear's porridge, but she also eats his chair. And his bed. And his blanket. And pillow and pajamas. Who doesn't love a good fairy tale that ends with a loud and unapologetic belch?
3. Falling for Rapunzel by Leah Wilcox, illustrated by Lydia Monks. It turns out that Rapunzel's hearing is not so great. So when the prince kneels under her tower window and shouts for her to throw down her hair, she mishears him and throws down her underwear. When he clarifies that she should throw down her curly locks, she tosses down dirty socks. He calls for a ladder, she tosses a bowl of pancake batter, and so on, in escalating ridiculousness. Illustrated with clever and colorful cut-out collage work, this one is a hoot from its opening line, "Once upon a bad hair day."
4. Little Ninja Riding Hood by Corey Rosen Schwartz, with hilarious illustrations by Caldecott-winner Dan Santat. The same Wolf from their prior book, The Three Ninja Pigs, is back and hungrier than ever. After training at the local dojo, he feels equipped to take on Little Red and sneaks into her granny's house and bed as always, but as luck would have it, Little Red is also a trained ninja master, and they trade katas and sideswipes in an even match until Gran enters in her gi, fresh from tai chi class, and tag teams Little Red to school the Wolf once and for all.
These are just a few favorites, but rest assured that there is no shortage of fractured fairy tales in the Charlotte Mecklenburg Library system. Pop by your local branch and check out anything from Sleeping Bobby by Mary Pope Osborne and Prince Cinders by Babette Cole—which pull gender role reversals on the traditional tales—to empowering feminist spoofs like The Princess and the Pizza by Mary Jane Auch and Cinder Edna by Ellen Jackson, or clever gross-out twists in The Stinky Cheese Man and Other Fairly Stupid Tales by Jon Scieszka. No matter your pick, one thing is for sure: you'll be reading happily ever after. (See what I did there?)