4 Dream Destinations for Dads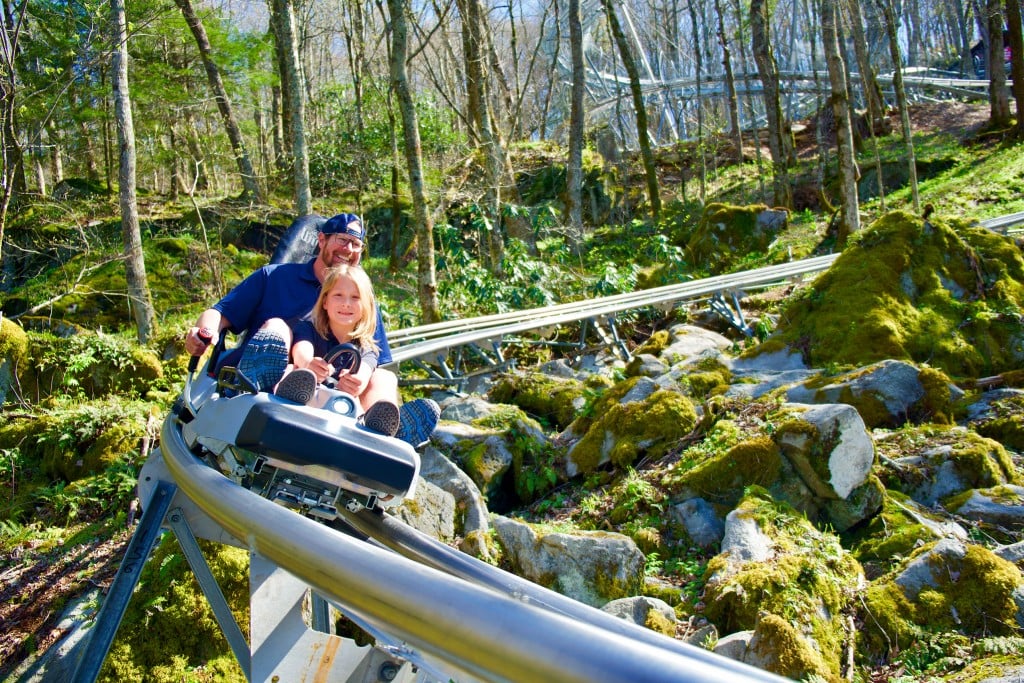 Gather a group of fathers, invite grandpa, or grab the kids for a daytrip or weekend getaway. Bad music, tall tales, and dad jokes are encouraged.
Here are four destinations for dads, all within driving distance of Charlotte:
Banner Elk, NC's motto is Escape. Unwind. Indulge. Dare to prove the town wrong. It's in the Blue Ridge Mountains, close to Beech Mountain and Boone, and has activities like fly fishing, golfing, and biking, plus hiking trails and water activities.
What to do: Walk across Grandfather Mountain's mile-high swinging bridge, bike at Beech Mountain Bike Park, ride the Wilderness Run Alpine Coaster or climb, kayak or raft with Edge of the World Outfitters. For quieter adventures, take a guided educational tour and pet goats and donkeys at Apple Hill Alpaca Farm or hike to the 50-foot Elk River Falls, a little more than a half-mile roundtrip.
Where to stay: Banner Elk Mountain Cabins accommodate two to six guests with full kitchens and outdoor firepits for campfires and s'mores. Concierge services will stock your fridge, plan golf trips, and deliver gift baskets. For an added splurge, reserve the cabin with an outdoor hot tub.
Where to eat: Enjoy Artisanal Restaurant, Banner Elk Café, The Chef's Table, LP on Main, Sorrento's Italian Bistro, and Stonewalls Restaurant. Try Kettell Beerworks for beer, pizza, wings, and pretzels, or the Banner Elk Winery & Villa for award-winning Banner Elk White, Cabernet Sauvignon, and Seyval Blanc.
Hot Springs, NC is a tiny town on the Appalachian Trail packed with places to eat, drink, and shop, as well as outdoor activities within walking distance. Bridge Street is the main thoroughfare; it's an easy walk from one end of town to the other.
What to do: Hike on the Laurel River Trail, Dudley Falls and Paint Creek Corridor, or Lover's Leap Loop Trail and Appalachian Trail Loop. Ride the French Broad River with Hot Springs Rafting Co, located on Bridge Street. They offer whitewater rafting, tubing, and funyaks (inflatable kayaks).
Where to stay: Book a camping site at Creek Ridge Camping or a motel room at Creek Water Inn. Hot Springs Resort and Spa has camping and cabins on the French Broad River. Schedule time in one of the hot tubs in a private cabana along the Laurel River.
Where to eat: Artisun Gallery and Cafe, Iron Horse Station, Spring Creek Tavern, Smoky Mountain Diner, Trailside Bakery and Café, and Vaste Riviere Provisions offer breakfast, lunch, and dinner options for visitors. Big Pillow Brewing recently opened with American, English, and German beers. Order burritos, nachos and tacos from Grey Eagle Taqueria's menu.
North Augusta, SC and Augusta, GA border the Savannah River. Cross the bridge to access both cities' attractions and restaurants. Visit Augusta & Co. in downtown Augusta for information about local attractions.
What to do: Catch the Augusta GreenJackets, a minor league baseball team, in action at the three-year-old SRP Stadium. The North Augusta Greenway Trail along the Savannah River offers more than seven miles of paved trails for walking and biking. Play Top Golf in Augusta, learn about music icon James Brown at Augusta Museum of History, or drive out to Phinizy Center and Nature Park for views of wildlife on boardwalk trails.
Where to stay: The Crowne Plaza in Riverside Village on the Savannah River gives you quick access to Hammond's Ferry with a brewery, cafés, restaurants, a baseball stadium, and residential area. Hotel staff can arrange golf and kayaking outings for guests.
Where to eat: No need to wander far for good food. The Crowne Plaza's Salt + Marrow and Jackson's Bluff, Manuel's Bread Café, Hammond Ferry's Larder, and DiVino's offer brunch, lunch, dinner, and drinks. Grab a craft beer from Riverwatch Brewery and Savannah River Brewing Company.
Spartanburg, SC is close enough to Charlotte to make it an easy day trip or weekend visit. Depending on your interests, Spartanburg has several self-guided trails to follow. History buffs can take a walking tour of buildings, monuments, and towers throughout historic downtown. Weave in a few stories about the textile mills that shaped the city in the Spartanburg Regional History Museum. Along the way, hum a tune to a musician who made their way through the city: Pink Anderson, Clara Smith, The Marshall Tucker Band, and many others. Get maps online or visit 105 N. Pine St. in Spartanburg during normal business hours for brochures and helpful information.
What to do: Racecar enthusiasts can take advantage of BMW's Performance Driving School with a driving instructor, private off-road and racetrack courses, and a hot lap with a professional driver. Bring your own canoe or kayak to paddle in Lake Cooley, a 330-acre reservoir. Or visit Croft State Park to bike, fish, hike or canoe or kayak in equipment rented at the park.
Where to stay: The AC Hotel Spartanburg in historic downtown is walkable to all of downtown's bars, shops, and restaurants. Suites accommodate five to six people and adjoining rooms are available for a smaller group. Relax after an active day at the outdoor pool, listen to live music at the lobby bar, or shoot pool.
Where to eat: Head to AC Hotel's rooftop restaurant, Rick Erwin's Level 10, for steak and seafood. Daniel Morgan Square is currently closed to vehicular traffic and offers a variety of eateries with outdoor seating. Ciclops Cyderi & Brewery, Growler Haus Spartanburg and R.J. Rockers Brewery are within a two-mile radius of downtown. FR8yard's menu serves brats, dogs, and beer in a Biergarten-styled venue with an outdoor stage for live shows.
VANESSA INFANZON is a Charlotte-based writer and mom. Follow her on Instagram and Facebook @morethanVMI.