3 Smart Things for Stay-At-Home Dads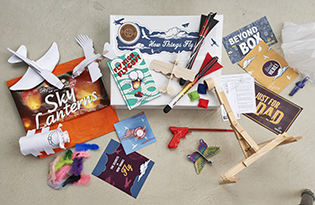 These items can help dads who stay-at-home – and those that don't – as they work on being the best dad ever.
When time is precious, a box of activities for dad and the kids may be the perfect way to spend quality time together. Cooper Kits, designed for dads and kids ages 5-9, are available with different themes and come every three months packed with games, toys, a bedtime story, a themed dinner menu with recipes dad and the kids can make, related digital resources and an activity book that guides you through. $59/year, cooperandkid.com.

For some dad's having a manual by their side is always a guaranteed marker for success. In Dr. Kevin Leman's book Be the Dad She Needs You to Be (Thomas Nelson publishers, $17.99), he shares insider tips for dads who are looking for a stronger relationship with a young daughter. Leman, a dad of four daughters, shows how to get the fathering job done and also how to make each daughter feel unique, special and valued. Like a manual, this book encourages a little effort but also guarantees a relationship that will last a lifetime.

Adrian Kulp, author of DAD OR ALIVE: Confessions of a Stay-at-Home Dad (New American Library, $15), offers his raw, unedited truths about raising his first child days after losing his job. Dad's can either relate or laugh at what's it like playing dress up with his daughter and cleaning a messy crib. From having to pack up his GI Joes and redecorating his man cave into a nursery, this books shares loads of laughter.
Read More: 


5 Things Moms Can Learn From Stay-At-Home Dads