3 Fresh Ideas for Kids' Room Walls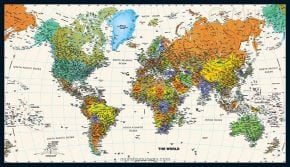 Do you want to do something interesting on the walls of your child's room but don't have an artistic bone in your body? Wall murals are a great way to add a special look to a room and no creativity is necessary. You can select from one of the thousands of designs of murals available for purchase, or you can take a favorite photo or image and have it blown up into mural size. This world map is a beautiful design element and can also serve as an educational resource as your child grows up
One of my most popular posts on the blog "High End Looks for Less" was a room originally created by Martin Lawrence Bullard for Daisy Fuentes on Million Dollar Decorator. I was able to recreate the look for a fraction of the cost. It featured a mural made from a photo of a favorite house of hers in Cuba. You, too, can take a favorite photo, whether it be of a vacation spot or a soccer field or whatever appeals to your child and have it made into a mural.
For a baby's nursery, you may want to decorate the ceillng, since they spend so much time looking up. This sky mural creates an ethereal look with sunshine and clouds. Since the pattern is on the ceiling you can be assured of it not fighting with other patterns in the room.
Finally, if you haven't heard already, simple geometric patterns are very hot right now with the chevron pattern leading the way. Selecting the correct colors of the chevron can help you contribute to  a global community that has a genderless nursery. When ordering your wall mural be sure to ask for one that is repositionable. This way, if your child moves into a different room or you move to a new house, the mural can easily be removed and put into another room when time allows.
Barbara Green believes you CAN have it all: kids, pets, and a beautiful home. She is the owner of Sensibly Chic Designs for Life and host of Ask the Design Diva radio program and insists you don't have to spend a million dollars to look like you already did.