3 Cool Sunglasses for Kids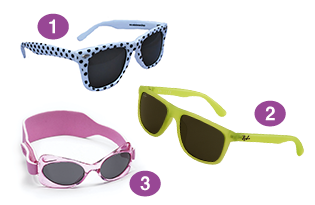 3. Eyes Cream Shades
Fashion-forward, comfortable and durable, with polycarbonate lenses and 100 percent UVA and UVB protection. The Chip Collection, $38.50; eyescreamshades.com.

2. Ray-Ban Junior Sunglasses
Bright neon frames make these 100 percent UV blockers awesome fun for kids. $69.99; ray-ban.com.
1. My First Shades
Adjustable neoprene bands keep these shades in place, and they float if they do go overboard. 100 percent UVA/UVB protection. Ages 2-5. $14.99; myfirstshades.com. Also available at REI and Kixx.