3 Back to School Organization Tips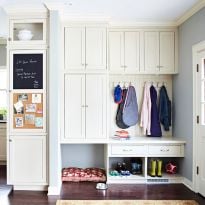 The relaxing days of summer are waning and we are all preparing for our schedules to gear up into overdrive. With a little pre-planning and preparation, our homes and our lives could run much more effificiently. Here are 3 Easy Tips:
1. Create a "Drop Zone" – This can be near the front door, the back door, or the door that leads from the garage to the house. The important thing is that it is the door that is used for the regular comings and goings of the family. Provide bins, hooks, boxes, and shelves so that everything that comes into the house has a convenient place for storing.
2. Create a "Breakfast Center" – Set aside one cabinet for all the breakfast basics, cereal, oatmeal, bowls, small plates, and silverware. Fill it with your family's favorite breakfast foods and make it convenient so everyone is able to serve themself to keep daily schedules moving smoothly.
3. Create a "Lunch Station" – Just as you did for breakfast, create one localized area for storing all of your lunch box add-ons. You obviously can't put your sandwhiches there, but juice boxes, bread, snacks, baggies, lunch bags, etc.will easily survive the  lack of refrigeration. The less you or your kids have to run around finding things to pack for lunch the more relaxed and ready to take on the world you all will be!
Do you have any special family tricks for getting your home in order for Back to School? We'd love to hear them!
Barbara Green believes you CAN have it all: kids, pets and a beautiful home. She owns Sensibly Chic Designs for LIfe and hosts Ask the Design Diva radio show and believes you don't have to have a million dollars to look like you did.